2018-2019 Co-Ed Cheerleading Preview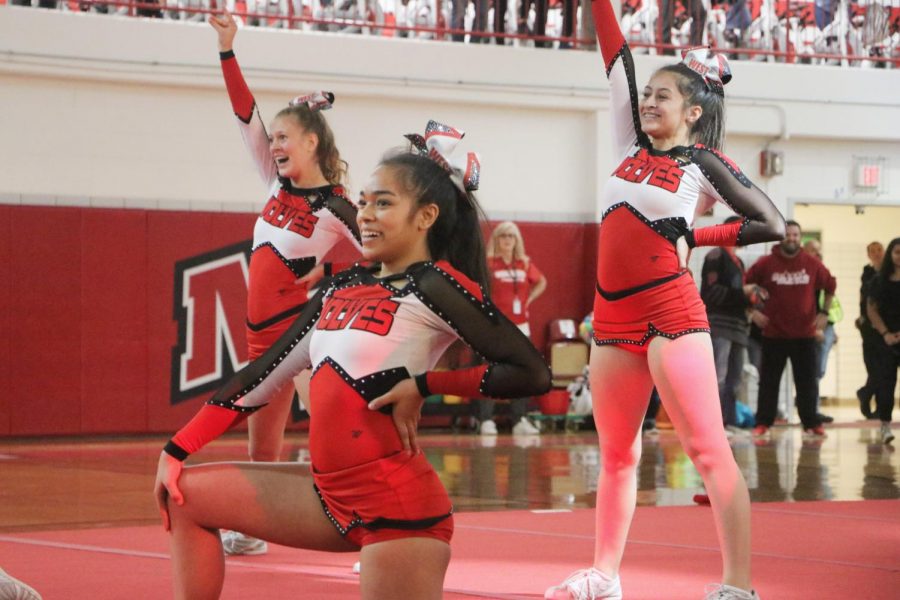 After warming up during football season while showing off a few skills and stunts, Niles West's varsity co-ed cheerleading competition season is upon us. The varsity squad has been putting in hours of practice daily in order to prepare for upcoming competitions.
Varsity coach Francine Gutierrez has been coaching cheer at the varsity level for seven consecutive years after college. Gutierrez is excited for the season and is looking forward to many big things coming to the team this year.
"I am looking forward to watching this team compete against all the other Co-Ed Varsity teams in the state of Illinois. I think they have great skills and talent, but overall a team bond that can really show during competitions. I am also looking forward to hosting our Cheer Invitational and one of the IHSA Sectionals," Gutierrez said.
Every team needs a few captains, and Gutierrez really took in a lot of time and thought to choose the three captains for this years varsity team, senior Leanza Diaz, junior Patrick Greiner, and sophomore Wary Hernandez.
"I choose the captains based on many factors: leadership, reliability, skills, and example. These are just a few things I take into consideration, but the main thing I do look for is an overall character as a student-athlete," Gutierrez said. "Their grades, of course, have to be acceptable, as they are students before athletes, but character will really give me an idea of who they are and how the team will be because they will look up to them in a way."
This year is Greiner's first year being captain. With such a big role to lead, he is taking major responsibilities and setting goals for the team as well as himself.
"Being captain makes me feel like I'm a key player on the team," Greiner said. "We've started preparing for competition during football season by working on skills. Once the season ended, we started working on our routine by having 3-hour practices 6 days a week. My personal goal is getting better at co-ed stunts and getting my tumbling to the highest level in cheerleading."
Sophomore Marija Kraljevic has been on the varsity level since last competition season. Unfortunately, Kraljevic broke her hand so she won't be competing this season, but she still has high hopes for her team and is looking forward to seeing them do great throughout the season.
"I'm looking forward to seeing how my team will perform and compete this season. I feel like we have a pretty strong team even though there are more lower classmen than upperclassmen," Kraljevic said. "I'm hoping the team will be able to win CSL Conference again and place top ten in each competition."
The team's first competition took place this past Friday, Dec. 14 for the Blue Thunder Co-Ed Challenge.