West Reacts: Bears Season Comes to an End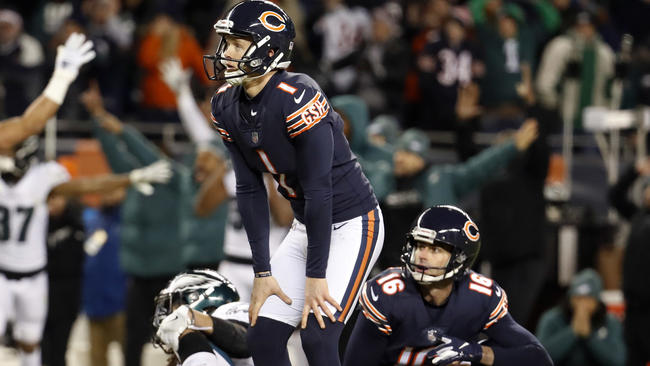 For the Chicago Bears, one of the most important plays as well as the entire season came down to one final play against the Philadelphia Eagles two nights ago. The fate of the Bear's season was about to be decided by a 43-yard field goal from kicker Cody Parkey. He missed the field goal by a few inches, hitting both the upright and the crossbar to conclude the Bears' season with a 14-13 loss in the 2018 NFC Wildcard game.
It was a close game until the last three seconds when the Bears called the field goal squad onto the field. Although there was hope for a made field goal, there was also much doubt on Parkey missing the field goal and the Bears worst nightmare came true.
Parkey has been known for the whole season to be iffy on kicking field goals especially missing four in a row all of the uprights a couple weeks prior.
"If you are getting paid nine million to just kick field goals at the professional level, I would expect you to be able to make them at the big time moments and he let down his teammates and the whole city of Chicago along with it," senior Adnan Perazic said.
Parkey was booed off the field by the crowd of angry Bears fans. Regardless of all the negativity, there were still teammates, coaches, and fans supporting him through this tough time.
"I've felt bad for him since the moment he missed the kick and although it was a bit upsetting to watch, I know that it's just a game and there is always next year," junior Kevin Eslick said.
Although the Bears season was cut short to many people, there is still much hope with their elite level defense and improving offense going into the next season as they set their goal to win it all in 2020.
"The season ended way too soon especially with our defense dominating every game since week one and bailing out our offense more than a couple times two nights ago," junior Lenny Yaras "I think next year though if our defense is still great and our offense gets better we have a great shot at going all the way."
It was a truly heartbreaking moment for the entire city of Chicago and although there were plenty of negative reactions, many people understand.
"I wanted them to win because I'm a loyal Chicago fan and I thought the Bears had it, but I don't blame him. It doesn't affect me personally in any way though," senior Gaby Goldman said.