2018-19 Boys Indoor Track Preview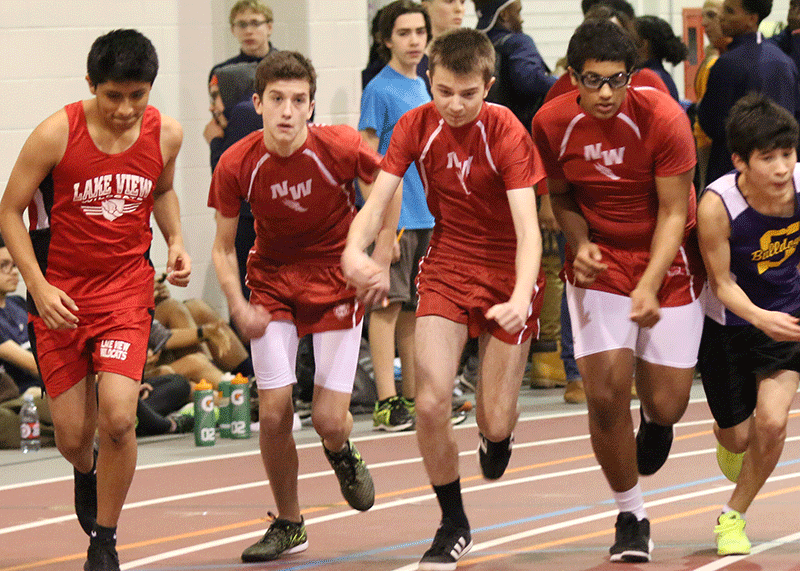 With the second semester already in session, that means track begins soon. The boy's track team, which consists of sprinters, long distance runners, hurdlers, jumpers, throwers, and pole vaulters, held their first practice January 14.
The team discussed their goals — which are ambitious — playing into the environment Coach Chris Vivone wants.
"We want to win the conference, as we haven't done so since 2014, and it would be awesome to go and win sectionals too since we haven't done that since 2002. But besides that, we also want to qualify five races for state and welcome 50 new people to the track team. It could be anyone new," Vivone said.
Qualifying five races for State will not be an easy feat, as lots of training will have to go into it, but it will all be worth it when it all comes into fruition.
"The distance and mid-distance guys are getting their mileage in, sprinters and hurdlers will be going hard for three weeks of conditioning, and then they will focus on their fast twitch muscles for their sprints," Vivone said.
The team hopes to have no major setbacks, as their squad still seems to be mostly here, even after the few seniors graduated last year.
"We had lots of junior sprinters last year, but we did have senior throwers, so that may be a challenge for us, throwing, but with our sprinters now seniors, we should be good," senior Josh Arguello said.
Evanston seems to be a big challenge for the team, and a school that the squad wants to do well against. Evanston has been the "big dogs" in the conference for the past 20 years they have won conference 17 of those years. As for junior Noah Velasco, he is hoping to accomplish some of his own goals.
"I want to jump 18 feet, and winning Conference would be awesome too," Velasco said.
Their first meet will take place on Fri., February 1 starting at 4:30 P.M.