The House of Blue Leaves is a Success
By Mara Shapiro
October 12, 2011
Hang on for a minute...we're trying to find some more stories you might like.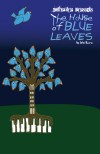 A zookeeper, a mentally ill wife, an insane son, a culinary mistress, and three nuns? Put this together and you get Niles West Theatre's wonderful rendition of The House of Blue Leaves.
The play begins in 1965 with local Queens zookeeper Artie Shaughnessy, played by senior Quinn Lawson-Hall, sleeping peacefully on his couch. Then a strange man enters through his window and trips off the alarm. Artie sleeps through this, and then gets up for a short while and knocks into a chair. The next thing he knows, his mistress Bunny Flingus, played by junior Aria Caldwell, busts through the door. It is 5 in the morning and Artie wants to sleep, but Bunny keeps talking about how Pope Paul VI is coming to town. She has big plans for Artie and herself:marriage. She can't wait for the honeymoon where she will finally be able to show off her cooking skills to Artie. Her cooking is better than her skills in the bedroom, according to her, and as she goes on and on about veal, Artie goes crazy. Bunny also starts talking about her job working for an astronomer. One thing about Bunny is that she has had many jobs, from Macy's to a ski lodge, and she doesn't work at those places for nothing; she gains much knowledge from these odd jobs of hers.
As the two talk, Bananas, Artie's wife played by senior Rachel Prale, walks in. Bunny crouches by the kitchen table to hide. Bananas starts to go on a rampage about Artie loving/not loving her. One minute she thinks he does, the next minute she's screaming at him that he doesn't. She also starts freaking out because her nails our too long, and that means they will start to grow back and stab her. It's obvious that Bananas has schizophrenia, and a pretty severe case at that. Artie doesn't seem to care about her. When she goes on her knees to be fed like a dog, he makes the snide comment, "Work at a zoo come home to a zoo." Bananas eventually finds Bunny hiding after she starts telling Artie that she thought she heard a loud, fat woman in the kitchen. Of course Bunny becomes indignant and lets her presence be known.  Bananas starts talking about her life and how every day she sits in the house and thinks about how terrible her life turned out.  Bunny starts talking about how her wish is that the pope kills Bananas.
It is later found out that Artie, who wants to become a famous movie composer, has a famous director friend named Billie Einhorn, played by sophomore Surdeep Chauhan. Bunny pushes Artie to call Billie up so that both Artie and her can come and visit. Billie remembers his childhood friend and agrees. Bunny then rushes off to go see the pope while Artie watches the t.v. As he is watching, three nuns appear outside his window.(played by sophomores Susana Montoya Quinchia and Caleigh Havensek  and freshman Julia Lohan). They ask to be let in to watch the pope on t.v. Artie concedes and the three plop down and start squealing as they drink their beer, because nuns like alcohol, right?  In the meantime, Artie has called a mental instution for Bananas. He tells her it has trees with blue leaves. Bananas has been driving Artie insane, including insulting his music. (It was a ripoff of "Silent Night," sounding exactly the same, but with different lyrics).
It is also found out that the man who broke into the house at the beginning of the play is none other than Artie's son, Ronnie, played by sophomore Yassir Dasser. Ronnie has a bomb to blow up the pope. He hates his father and his dreams of becoming famous because Ronnie tried to become a child actor, but failed. He figures that everyone will know his name if he kills the pope. In the meantime, Artie has a visitor in the form of Corinna Stroller, played by senior Lauren Langer. She is a Hollywood starlet who also happens to be Billie's girlfriend. She is deaf and has a hearing aide malfunction inside the house, so whenever Artie or the nuns would say something, she would say randomly "It cost 24 carats"(her ring), or something nonsensical like that. She also says that she has tickets to see the pope's mass at Yankee Stadium, to which the nuns go crazy, as does Ronnie. They all start running around after each other, going every which way.
In the end, two of the three nuns get the tickets. Through the running, an M.P (government official), played by junior Alex Wood, comes through the door talking about all these charges he has against Ronnie(nothing about the bomb), which surprises Artie.  Much confusion takes place during this time and Corinna says goodbye to Artie, accidentally takes a package with Ronnie's bomb, and heads out the door to go see the pope. To end the scene, the man from the institution, played by  freshman Andre Eramia, bursts through the door looking for "Mrs. Shaughnessy" right at the same time as Bunny walks through the door with a new dress proclaiming herself as the "new Mrs. Shaughnessy." Hilarity then ensues as the man tries to take Bunny to the institution. The look on her face was priceless. After this, the bomb goes off.
Corinna and the two nuns have died. The one nun left says that it was ok her friends died, because they lived to be with Jesus and now they were. It was a little disconcerting in the non-caring way she said it, but this is a dark comedy. Billie has come to see Artie. He is obviously upset. His first wife died, and now Corinna has, too. Artie still wants to dream big, and Bananas is still living with him. Billie is very friendly with Bananas(he gave her that nickname), and starts to become a little too friendly with the surviving nun. Artie starts showing Billie old pictures to try to make him remember Artie's dreams. Bananas tries to give her opinion and compliment an old building, but Artie insults her as always.
To be fair, he has dealt with a lot when it comes to her. She disappeared for two days(this was to take place before the pope came, so before the play began) after assaulting Jackie Kennedy(I'm not kidding) and he found her in the freezing cold on top of a building. Artie also tries to get Billie to free Ronnie from jail, which he does, not knowing that Ronnie killed Corinna. As Billie keeps denying Artie, saying how depressed he is and how he might never make another movie again, Bunny starts discussing her culinary skills. Billie becomes happy again and starts flirting with Bunny right in front of Artie. Bunny then decides to dump Artie and leave with Billie, crushing his dreams.
Now Artie is left alone with Bananas. Bananas is acting normally, telling Artie how she never knew he liked cooking and that she'll cook for him. Artie gives a wan smile. Then Bananas starts barking. Artie gives a pained look and gets down on Bananas' level. He kisses her, then chokes her to death and cries. As he cries, the lights from the theatre turn into blue leaves surrounding him: the ending scene.
Overall, the play was fabulous. I laughed so many times it hurt. It truly was a dark comedy, and the plot was really riveting and I never knew what was coming, like Corinna's death or Bananas' death. Caldwell, Prale, and Lawson-Hall made you really become attached to their characters, not saying that the other actors didn't do this as well.  The only thing that I guess made me angry was the treatment of Bananas. Clearly she was a sick woman. Artie never should've cheated on her or insulted her the way he did. In all honesty his music wasn't original, and he couldn't face that. Her death really was a disappointment to me. Really though, I enjoyed this play a lot and I thought it was a great starter to the season. There were some sexual comments, and that might have made people a little uncomfortable, but I thought that the wording wasn't too much or too little.
Junior Basia Gawin agrees.
"The House of Blue Leaves was a strange but touching play filled with memorable moments,"  Gawin says.
Bravo to Theatre Director Andrew Sinclair and the cast and crew. They all did wonderfully, and I cannot wait for the next production, Xanadu.