Laura Gorski: Athletic Trainer by Day, Baker by Night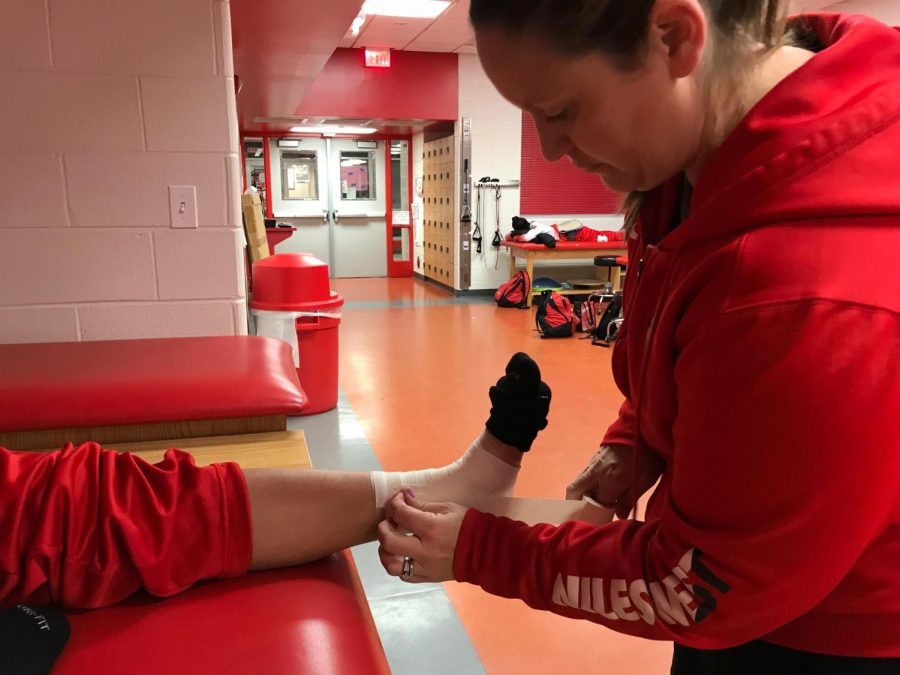 For every athlete and coach at Niles West, the training room quickly becomes your second home. Whether it's the spot before pre-game warmups or a place you go to for injuries, the trainers are relied on and praised day in and day out. One of the two trainers, Laura Gorski, is extremely beloved here at Niles West. Being a nerd in the field of athletic training, to raising a family, and being an overall comforting person, Gorski is someone who the athletic department depends on and continues to support all athletes in whatever sport they pursue.
Back in August of 2008, Gorski was working at Benedictine University as an athletic trainer upon her graduation from the University of Illinois-Urbana Champaign. After graduating, Gorski obtained her job at Benedictine, but it wasn't enough.
"When I was working at Benedictine, of course, I loved what I was doing. I was working as an athletic trainer full time, interacting with tons of great people, and fulfilling what I spent four years studying," Gorski said. "But it was extremely difficult. My husband and I were starting a family and the incentives didn't quite meet what we needed. It wasn't financially the best. Thankfully, my best friend (who is an athletic trainer) told me about the job here at West and I decided to apply and see what would happen."
After applying at Niles West, Gorski was given the job within 24 hours. Once beginning her first day on the job, everything was already that much better.
"As soon as I walked into West, it was on a whole other level. The facilities were great, the people were great, and it allowed my family financial stability. I was able to begin starting my family while working at a good cost. Not only that, I got to meet a whole sweep of new athletes and begin creating bonds that still last with me today," Gorski said.
Anyone who interacts with Gorski on a daily basis truly feels she is one of a kind. Her work ethic, intelligence, and continuous compassion towards her athletes definitely don't go unseen. For senior basketball player Lidia Fakhoury, Gorski's impact on not only herself but the athletic department at West is irreplaceable.
"Having Laura as a trainer is one of the key elements for the athletic population at West. She is extremely understanding, caring, and is selfless to guide us to be successful. Being injured myself, I've had plenty of interaction with Laura and it never wanders from amazing. She makes you physically feel better, is a support system within the school walls, and she's just an overall amazing human being," Fakhoury said.
Along with student-athletes, administrators feel the same way. Gorski does a great job treating athletes, being present during a competition, and vocalizing what is needed in the athletic training room. Niles West athletic director Dana Krilich boasted about how great is it having Laura as part of the athletic family.
"Laura's cookies are the best. Whenever she is making them in the back, I also make time to come over and peek at what she's creating. Having tried them myself, not only are the designs great but they taste amazing. They are so good and now I can see why she's always having new orders every week. She does a great job doing her job while creating some of the best treats around," Krilich said.
Athletic training isn't the only passion Gorski has. In October of 2009, Gorski started her own business as a baker. From cookies to cupcakes, to extravagant cakes, she does it all. It started off as a side hobby, but by word of mouth, has turned into her own little business.
"When I first started the baking company, it was honestly just for close family and friends since everyone knows I love to bake. After the first few orders, other people and extended friends started hearing about it and placing orders. Now, it's my mini side job. I love everything that has to do with baking and food, and creating all types of themes is the best part. Every customer is different and every order has a unique twist on it," Gorski said.
Gorki's business has seeped into the walls of Niles West, with many teachers and coaches placing orders for their personal events. From birthday parties to holiday sweets, many Niles West athletic department faculty can say that Gorki's products have never let them down.
Not only have Niles West faculty outsourced to her, but many athletes have partaken in many of her delicious creations. Senior Donya Richter agrees that Gorki's creations are some of the best she has ever had.
"Being around her so much, I've learned that there is so much technique, knowledge, and commitment you need to have. It's not just a kid's front yeard cookie sale, her business is legitimate and it's so cool to see. Sometimes when I'm free, I like to head back into the equipment room and watch her frost cookies and just talk. She works to balance her business with her job as our trainer and she is amazing at both," Richter said.
From as long as she could remember, staying busy and doing what she loves has always come naturally to Gorski. Whether that be jetting her kids around, spending late nights in the training room, or bringing in some leftover treats, Gorski is a staple of the Niles West athletic department. Gorski is one of the best around, and everyone at West can say that they are grateful to have her.