Ariana Grande says "thank u, next" to the Sweetener Era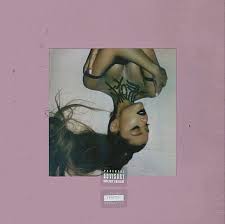 Just days before her hit album Sweetener won the Grammy Award for Best Pop Vocal Album, musician Ariana Grande released a new album entitled thank u, next.
Grande unveiled the thank u, next album 5 months and 22 days after Sweetener came out on Aug. 17. The date 5-22 possibly honors the victims of the Manchester Bombing which occurred at her concert on May 22, 2017.
After her split with comedian Pete Davidson, Grande dropped the song "thank u, next" in which she name-dropped some of her exes, including Davidson. She later announced that the song would be the title track for her new album- which many did not suspect since she had just released Sweetener that August. Since her breakup happened following the death of rapper Mac Miller, her ex-boyfriend of two years, most of Grande's songs on the thank u, next album has to do with her emotions through the break-up process and the grieving process.
Leading up to the release of the album on Feb. 8th, Grande promoted it by releasing three singles: "thank u, next," "imagine," and "7 rings." As soon as "thank u, next" came out, the internet turned upside down. Since everyone was infatuated with every detail of Grande and Davidson's relationship, it seemed to give closure to the exes- one of them, at least. Since Grande had remained mostly silent on Miller's death, the line: "wish I could say thank you to Malcolm, 'cause he was an angel" was a sweet tribute to the late rapper.
This album is different than her previous four- it is much darker. Since she wrote it during a two-week period during a very rough time in her life, this makes sense. In a tweet, Grande states that she and her team tried to bring "as much light to it as they can." From upbeat pop to trap to R&B, it's very diverse in genre. It is apparent that Grande has transformed from her old traditional pop music, finding her own sound along the way.
While some songs are more upbeat and fun, like "make up," "7 rings," and the very popular "break up with your girlfriend, i'm bored," others take on a heavier subject matter.
The song "ghostin" refers to Miller's death and how Grande was balancing her grieving with trying to maintain her engagement to Davidson. "Though I wish he was here instead, don't want that living in your head" is a line that highlights the fact that Davidson was insecure about how Grande was still obviously in love with Miller although the two were engaged.
Although it has a darker tone, thank u, next complements Sweetener nicely. It seems almost like a sequel to the story that Sweetener tells.
Since its release date, the album has already broken records. Earning titles like Biggest Day 1 Global Pop Album on Apple Music, Biggest Day 1 Global for a female artist on Apple Music, and #1 on Apple Music in 84 countries. After seeing screenshots of her brand new songs taking up every spot on the Apple Music Top Songs list, Grande tweeted "this is so wild. thank u so much."
Not only did the album break records, but the videos released over the past few months did as well. The "thank u, next" video broke the YouTube record for most views in 24 hours (55.4 million) and the "7 rings" video set the record for biggest YouTube debut of 2019.
It's evident that Grande's career is at its peak and not coming down anytime soon, and we can all look forward to her setting more records and winning more awards. I think that the thank u, next album has a good chance of winning a Grammy, if not multiple Grammy's next year.