Dario Susnjara: Marching to His Own Beat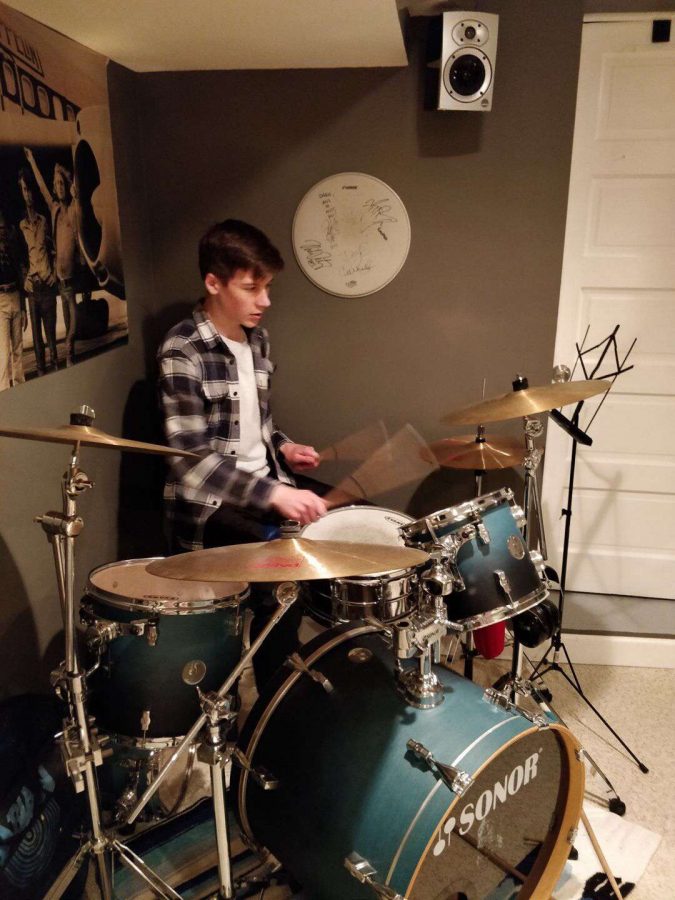 By Lexi Lee, News Editor
February 21, 2019
Ba-boom tsch! The sound of snares and cymbals echo alongside a bass drum that reverberates the floors of the Rock and Roll Club's practice room. The drum set packs a powerful beat that induces one to search for the source. Sitting behind all of it, one may be surprised to see a friendly, chipper-looking, blonde guy rock and rolling it up. That guy is senior Dario Susnjara.
Susnjara has been playing the drums since he was six or seven years old and has been playing ever since. He began with the drum set and then joined percussion in band in fourth grade. His parents were the ones who initially got him started with percussion in order to settle his jittery-ness.
"When I was a kid I would always start banging on things and playing and so my parents wanted me to start playing drums and my parents got me to take lessons, and so it just started from there and I really liked it," Susnjara said.
Falling in love with percussion ever since Susnjara carried this hobby into high school.
"I'm taking the percussion class now, and I'm in the band. I'm also in Rock and Roll club where we play music there and, yeah, I also take private lessons as well," Susnjara explained. "[In Rock and Roll Club] we basically just meet every Wednesday, and we learn songs and then we play them and it's pretty fun. It's just a fun time to meet and play music. For band sometimes we go to different colleges and we play, or at music festivals and stuff. We played at Northwestern last year and that was pretty cool. We had a rehearsal with the director there. Next week we're actually going to record two of the songs at Illinois State University."
Susnjara has also further immersed himself in percussion by participating in the band for two school musicals: Les Miserables and Rent. His fellow percussionist, junior Dahlia Maxwell actually gave him the opportunity to play in the musical because she knew he was the right guy for it.
"He covered for me for the musical. I had it originally, but I asked him to do it because I knew he'd be a good person to give it to," Maxwell said. "He's very good, he always pays attention to detail and takes criticism very well- it's a very good quality of his."
Susnjara recalls his participation in the musicals and all the hard work he put into the experience.
"Last year during the musical for Les Mis, there was a ton of people there, and I was playing in the pit. It was really fun. I also did the musical before that, Rent, so I used that experience, and it was a really fun experience to play. We usually get the music a couple weeks before the show, and it's a ton of work because every couple of days we practice and the week before the show we practice every day after school until like 9:00 P.M. It's definitely a lot of work, but it's a lot of fun to learn all the music and then play it during the show," Susnjara said.
Outside of musical season, Susnjara practices around three to four hours a week and tries to fit in time every night after school. The sound of muffled drums and percussion coming from the basement is so common in the Susnjara household that his sister, sophomore Daniela Susnjara is used to it.
"He's been doing it for a long time, and he's always like playing the drums everywhere, and he's really good at counting and keeping time. I've gotten used to it, he plays really loud, but I'm used to it now," Daniela said.
Keeping up with schoolwork while honing his drumming skills have helped Susnjara work on time management skills.
"Sometimes if I have a lot of homework, I won't practice as much, but usually I'll try to fit something in every night. Just like, if I'm stuck in something in class, I'll play it at home and then the next day I'll be good. I'd say usually about three or four hours a week," Dario said. "When I'm not practicing something specifically, sometimes I'll just play and take out stress."
Percussion is definitely a passion of Susjnara's and he plans on bringing that with him to college.
"I hope to continue playing in college, that's not going to be my major though, but I hope to continue playing. [Playing for musicals is] something I'm thinking about [as well] just because of the experience I've had here," Dario said.
So what does Susnjara plan on majoring then if not music? Aerospace engineering, possibly at the University of Colorado Boulder. Not only is Susnjara musically inclined, but he has a big set of brains as well. Daniela looks up to him as an academic role model because of it.
"He's a really good student and he'll help me with like giving me his old notes and stuff like that for classes that he's already taken. And he'll give me advice on school and my classes," Daniela said.
That sounds like a pretty good older brother to have. At the end of the day, Susnjara may be an insanely talented percussionist and braniac, but it's his pure character and amiability towards everyone that stands out.
"He's a really great friend, he's kind, caring, he wants to know what's up. That's probably something I look up to him for. He's just so smart and he's always on top of his stuff and he always wants to be the best and he pretty much is. There's nothing bad to say about Dario," Maxwell said.