Send a Crush to Your Crush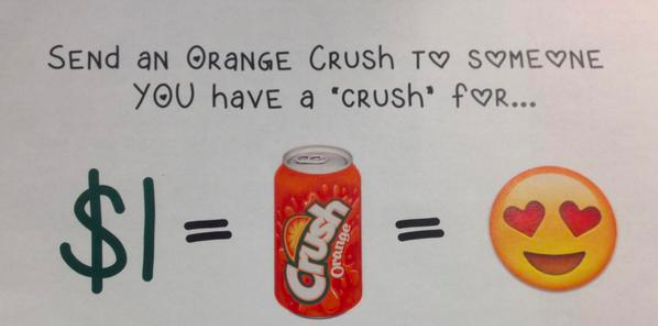 The season of love has arrived and Niles West is ready to spread some throughout the school. Crushapalooza is taking over this week and giving the opportunity to send a Crush and a secret message to a crush. SADD club is promoting this event the entire week.
Physics teacher, Dance Marathon sponsor and SADD club sponsor Anthony Comstock sent out an email to the student body of Niles West on what Crushapalooza is.
"Valentine's Day is just around the corner! Send some love to your friends, acquaintances, teachers, significant others, significant otters, that kid from history class, secret admirers, yourself, etc. Bring $1 to the table outside the lunch room this week, write a message and we will hand deliver your wonderful, genuine, heartfelt, (school appropriate) message with a lovely can of Crush on Valentine's Day," Comstock said in the email.
Junior Jacey Trufin is not one who admires the atmosphere of the month of February, but she's willing to participate in Crushapalooza.
"I think it would be so fun to send one of my best friends a cute little message and a Crush. It's only a dollar and the idea is funny to me. I hope I won't be receiving any because I do not drink soda and it would be such a waste. Overall, I love how I could send these to my friends and make it anonymous just to mess with them," Trufin said.
Junior Adrian Acosta was never really aware of the Crush sale, but this year he's interested and already planning on sending a few crushes.
"I never heard about Crushapalooza until this year, to be honest," Acosta said. "After hearing what it's about, I feel like it's a cool concept. I want to buy a few and send them to the boys. I want to prank them and make them wonder who the Crushes are from. I'm really glad I was aware of the sale this year."
Make sure to consider sending a Crush this week to anyone with an anonymous message. It could be real or it could be goofy. Make sure to have fun with it as long as it's school appropriate. Make someone's day and send them a Crush.