Amber Ilisie: Speaking the Language of Theatre
Entering high school as a freshman can be tough, especially if you don't know many people. For current senior Amber Ilisie, the transition was even stranger considering she had just moved from Romania.
"In my hometown in Romania, everything is very slowed down," Ilisie said. "Everything here — even in the theatre department — is the opposite. It was very hard to get used to the pace of life."
Although she was born in America, Ilisie moved to Romania when she two years old, then went back and forth until she was fourteen. Because of this, she struggled with speaking Romanian verse English. As Ilisie got acclimated to life at Niles West, she joined theatre, which helped her come out of her shell.
She immediately felt comfortable, like she could grow and prosper in the theatre department, which she did.
"I didn't have to worry about being considered weird or strange because of my interests," Ilisie said.
Ilisie's first show was the fourth show of her freshman year, Prospect High: Brooklyn. Despite her being new, she was quickly able to make friends.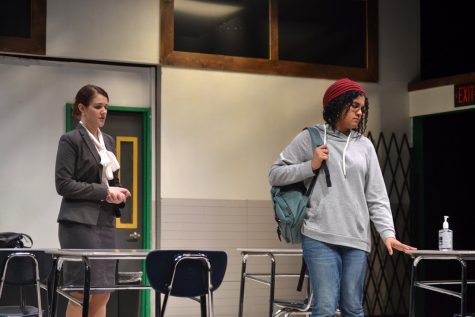 "Our friendship really started once we were both cast in the show," senior Lily Gussis said. "It was a friendship that started quickly and naturally."
Gussis and Ilisie were the only two freshmen cast in the show, and they bonded over the fear of being the youngest ones. Since then, the pair have been close friends.
"The best part of theatre is the sense of family you get after you're here for a while," Ilisie said.
She hasn't limited her friendships to upperclassmen, however. Sophomore Aaron Razack has seen Ilisie as one of his closest friends since he was a freshman.
"I love Amber because she always finds a way to bring out the happiest, most positive, and best sides of me," Razack said. "She's always testing my thought process as a person and an artist by making me become more comfortable with who I am as a person. She's provided home, sanctuary, and safety for me when I needed it most."
Ilisie was especially touched by the production of The Diary of Anne Frank during October, in which she played Mrs. Van Daan. It was her favorite to be a part of because of the important story she was telling by being involved.
"It just shows how beautiful theatre is," Ilisie said. "Because we get to educate people on things like this."
She believes it was important for Niles West Theatre to do this show because of how it allowed the cast and crew to teach the audience about Anne Frank and her experiences during the Holocaust.
"She has such an interesting way of digging into characters," theatre teacher and director of The Diary of Anne Frank Sam Rosenfeld said. "She really does a great job of unpacking them with a lot of emotional depth so that they aren't one-sided. She also really does a great job of focusing on the process and not stressing so much about the product. I think it's really easy for a lot of actors — especially young actors — to just be worried about getting to the place that they want to be by show date. But Amber does a really nice job of meeting herself where she's at and knowing her strengths and weaknesses and really working on where she can improve as an actress."
While Ilisie has impressed her friends, family, and teachers with her talent, she is equally impressed with the department.
"There's just something about walking into the black box every day and having all the different aspects of theatre just right in front of you," said Ilisie.
After high school, she plans to major in acting or musical theatre in college.