Boy's Varsity Basketball Makes It To The Regional Championship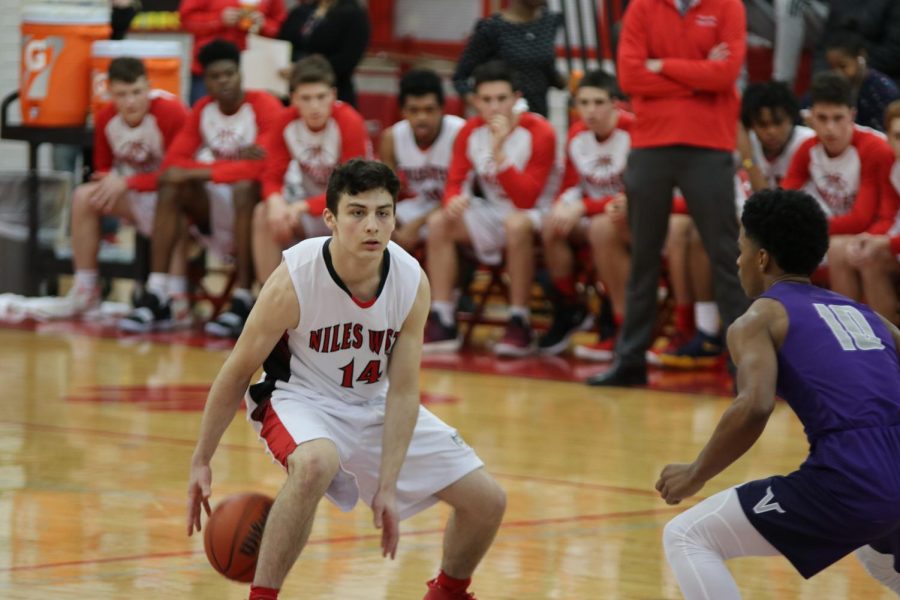 Niles West's boy's varsity basketball team managed to make their way into the regional championship game after knocking out school rival Niles North on Tues. Feb. 19. The team will advance into the championship game, a game the team hasn't won since 2011, and have only won twice in the last 40 years.
Head Coach Mike Wasielewski is very proud of how far the team has come throughout the season and is ready to take on the challenge that regional pose.
"We're in the regional stage of the playoffs, so we won the first round against Chicago Senn, and then the second round we played Niles North. In every area they rank teams from 1 to 20 something, so we were ranked thirteenth, and Niles North was ranked fourth. We played them on Tuesday night, and we beat them 69-60 to knock them out. Now we advance to what they call the regional championships Friday Night," Wasielewski said.
Though the boys have had a tough season during conference play, knocking out Niles North was the big win that they needed. Player and sophomore David Habash felt the excitement after the team won Tues. night.
"We're pretty proud because we beat North, and that's our rival, and if you beat your rival in anything you're proud, but still we have our regional Friday, so we got to be focused on that now," Habash said.
Making it to the regional championship is an accomplishment in itself, but it's an even bigger deal for the boys because Niles West has not won this match since 2011. In the last 40 years, it's only been won twice by West, so there is some pressure riding on the team's shoulders to try and win this match and proceed to sectionals.
"The last time Niles West has won a regional championship was 2011; they have won two in the last 40 years. We have not won this game very often, so it's good for the program and good for the school," Coach Wasielewski said.
With the amount of pressure weighing on this game, the boys are trying to stay focused and prepare as best they can, so they can play their best Friday night. Player and junior Haris Mackic gave some insight on how the team is preparing for the big game.
"The team is very excited to be playing for a regional championship. We are studying how to encourage teammates and how to go hard during practice," Mackic said.
Come out and support your wolves Fri. Feb. 29, at 7:00 P.M. at Conant High School where they will face off with Glenbrook South.