Steven Agos: Flying High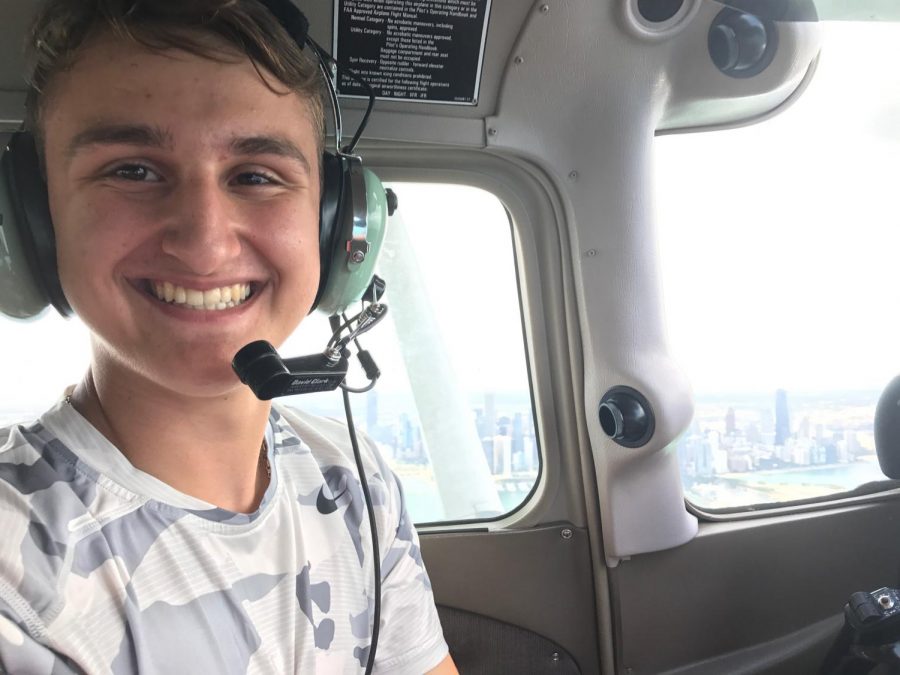 Some people enjoy hanging out with their friends or sitting in bed watching a Netflix show bed but that is most definitely not the case with senior Steven Agos.
Agos flies planes in his free time and has been attending flight school for over a year with over 80 hours of flight logged and hopes to get his pilots license soon.
"I started flying planes in August of 2017 because it sparked my interest and after a few flights I saw myself doing this for a career and enjoy it every time I go for a flight."
Agos' passion for flying soared to new heights and is something he hopes to go to school for at one of the best flight schools and make a living from it.
"I hope to finish getting my license from my flight school and continue my education at the University of North Dakota. After college I plan of becoming a commercial pilot," Agos said.
Agos is also passionate about playing baseball. He has been on the high school team since freshman year and his teammates know that he loves what he does and will do anything to get better at whatever.
"Steven is a very eccentric, funny, and outgoing person. As a baseball player he has worked hard to be the best hitter and catcher he can be on our varsity team," senior Bradley Pawlow said. "Even when some games don't go our way, he still comes back and fights."
His teammates appreciate him as both a player and a person and hope it continues to be that way even after graduation.
"Steven is a very nice person who is passionate for the game of baseball. I hope he continues to be the same guy after high school," junior Michael Daratzis said.
Everyone seemed to be a little shocked when they found out about Agos' unique hobby but at the same time think its cool and different from everyone else.
"At first I laughed imagining Steven actually flying a plane, but it's also really cool knowing it is his passion," Pawlow said.
Even though they think it is pretty school, some don't feel the need to fly up in the skies with him.
"I think it is very interesting that Steven flies planes for fun, but I can't see myself joining him anytime soon," Daratzis said.
All in all, Agos is different from pretty much every student in the school because of his love of flying planes. Next time you see a small one flying through the sky, you might think to yourself that could be him, or maybe in the future, you could find out the pilot for your flight is one of your former classmates.
"I enjoy flying planes because it's a different world in the sky and it is just a lot of fun and you get to see the world from a different perspective while learning a lot"