Christian Montgomery: Cruising Through the Gaming World
Fortnite, Call of Duty, and Halo are some of the top games of all time. From the intergalactic universe to experiencing camaraderie while going to battle, these games have made a mark in the history of the video gaming world. As technology continues to advance, new creations are pouring into the world one step at a time.
One person who prides himself on his video game knowledge is sophomore Christian Montgomery. Being an entrepreneur at a young age and putting his knowledge to the test, Montgomery has started his own websites in hopes of making it big.
"I love the idea of having the freedom to do whatever I want. It's a lot less boring than following a tutorial or copying something that has already been done. I had several games on codeacademy.com and on another website version Kongregate, which I have gained revenue from," Montgomery said.
Games aren't the only things that spark interest in Montgomery. He has a deep appreciation for books and that is another business aspect that he takes very seriously.
"I started the book website last summer to hopefully expand it into a business after I got enough traffic. The goal was to create a sort of "Netflix for books" that would be free with ads," Montgomery said. "I started the game before Thanksgiving to get more traffic on the book site. After that, I added more games for fun to increase web activity."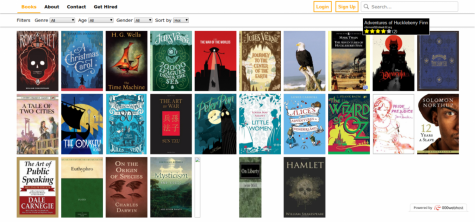 Montgomery is also known for his extreme intelligence. For only a sophomore, he has already made a huge impact academically. Senior classmate Simon Shamoon has much to say about Montgomery's accomplishments and the amount of innovation he presents.
"Christian is a genius. We are in the same class for AP Chem and he is just so good at everything. Being a sophomore in a majority senior class can be intimidating, but it just comes naturally to him. He understands the material very easily, he helps us as fellow classmates, and I think what he does on the side is really cool, " Shamoon said. "He does his own gaming, puts on an online book rental, and is pretty much taking the tech world by storm."
Along with Shamoon, AP chemistry teacher Michael Boll was complimentary of Montgomery's presence and the impact he has in the classroom– a reflection of his hard work throughout his business.
"I think his biggest impact is usually his humor and creative thinking. He often comes up with outlandish scenarios to "get out" of doing work, but still thrives. Christian does a great job of leading in the classroom and leaps out of his seat at the opportunity to create discussion with his classmates. He does a great job explaining his thought process and is a great example to follow," Boll said.
With Montgomery already having such great success, the future only seems bright. Having such experience and joy in the world of technology gives him hope that many opportunities will be opened for him in the nearby future.
"I would probably promote my website by posting ads or through this NWN article. I chose video games since they seemed like something interesting to code and I hope to do something involving coding projects. In the future, I'm considering becoming a freelance coder or doing a tech job for a company. This could be freelance, working on data security, or creating programs for companies," Montgomery said.