Jake Cachila: Loco for Polo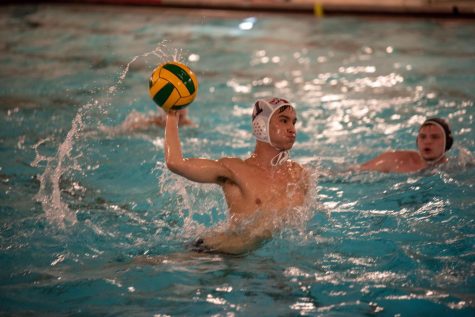 With only 32 seconds left in the fourth quarter, all eyes are focused on junior Jake Cachila. Swimming closer and closer to the other team's goal, Cachila blocks out all the surrounding noise — cheers roar from the crowd and shouts from his teammates fill the pool as he takes the shot. Just seconds after, all that can be heard is cheering from the pool and the bleachers, as the boys' varsity water polo has won yet another game.
At the start of his freshman year, Cachila knew that he was going to commit to three sports: cross country, boys swimming and boys water polo. Now a junior, he has done exactly that for his last three years at West.
"I have been swimming since I was six years old," Cachila said. "I have been doing club swimming since then and I thought I should expand my athletic range in high school and do cross country and water polo as my two other sports."
After finishing off his first year on JV, Cachila found out in the middle of his sophomore year that he was going to be bumped up to the varsity team for the rest of the season. Although this was exciting news, Cachila was conflicted since the rest of his close friends were going to be playing JV that season.
"It was really nerve-racking at first, I didn't really want to be on varsity because I wanted to be back on JV to play with my class, " Cachila said. "Looking back on it, I think I made a good decision to stay with varsity because I moved so much farther as a player, developed a lot of leadership skills, and got to feel out the varsity level more than before."
A year after being pulled up onto the varsity team, Cachila was named a team captain. Playing alongside Cachila, junior Andi Veseli has formed a strong relationship with him, in and out of the water.
"Jake and I have always been the closest of friends, but through water polo, he has been more of a mentor towards me," Veseli said. "Jake is honestly one of the captains we have ever had. He always encourages us to stay on task and even in games, he will always give us words of motivation. He tells us how to better ourselves in the game and in practice. Honestly, just a great captain all around."
Next year, Cachila hopes for continuous improvement and for a season just as successful as this year. Junior Jimmy Berg is looking forward to another year of playing and working hard with the rest of the team.
"I am really looking forward to next year with Jake, he is a captain that always keeps us on track and who always tries to raise our spirits when we are feeling down," Berg said. "Next season I really just look forward to working with him and hopefully just get inspired by the whole team and work as a strong, united whole."