Niles West HOSA Members Qualify for Nationals at State Tournament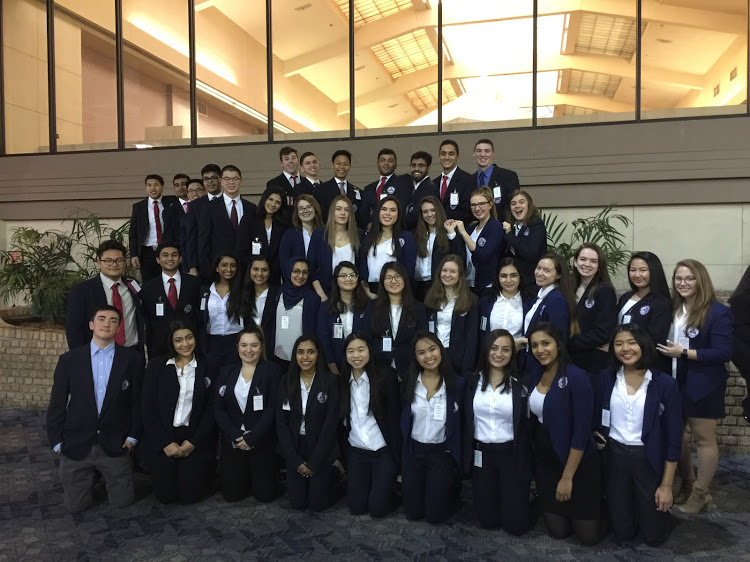 West students proved to be successful after traveling to Wyndham, Springfield last week to compete in the annual HOSA state conference. HOSA – Future Health Professionals (Health Occupations Students of America) is a competitive club made to further students' knowledge in health fields and provide real-world experience. Students' hard work paid off seeing as 13 students qualified for nationals.
43 West HOSA students competed at the state competition. The top three finishers per each event qualified for nationals. Here is a list of the qualifiers who also received medals:
1st place: Diana Panoutsos – Clinical Specialty
2nd Place: Samantha Schuy – Sports Medicine
2nd Place: Erin Kinaci, Angel Thomas, Jessica Jelke – Public Health
3rd Place: Erin Kinaci, Angel Thomas – Health Education
3rd Place: Alina John – Medical Reading
3rd Place: Dhruvi Patel, Cristina Ardelean – Medical Innovations Original
The following students also placed in the top ten of their event:
Beryl Belmonte – Behavioral Health
Sidrah Farooqi – Dental Science
Jack Shimabukaro – Physical Therapy
Jimmy Berg – Health Career Photography
Beryl Belmonte – Researched Persuasive Writing and Speaking
Mohammad Fahad, Sidrah Farooqi, Nooreen Fatima and Joy Patel – Community Awareness
Jimmy Berg, Andi Veseli, Abdur-Rahman Farooqi and Hana Atay – Exisiting Medical Innovations
Samantha Schuy, Ryan Lam, Zeshan Sukhera and Nicholas Lomahan – HOSA BOWL
Klodiana Duraku, Shaleena Kanjee and Zara Khan – Medical Innovations Original
Bhumi Achival and Naveed Hussain – Health Display Board
HOSA sponsor Lisa Dunham is proud of her students and glad that their hard work could be seen with the state competition results. This year's state conference saw a lot of top ten finishers in more challenging events.
"The HOSA students worked really hard creating their projects.  Their hard work was evident when viewing.  Most of our students placed in the top ten, we had people place in the top ten in events we have not won in the past. I am very proud of all the students. The students worked hard, presented well and enjoyed the conference.  I am looking forward to Nationals and see what our Niles West Students can achieve," Dunham said.
HOSA president Diana Panoutsos placed first in her category of Clinical Specialty. Clinical Specialty is an event that consists of an eight-hour shadowing in a chosen health career, a written report and a video displaying a skill used in said career. Panoutsos focused on a physician's assistant. While she was prepared for the competition, Panoutsos was still surprised by the results.
"I was truly not expecting to come in first place. It was an extremely intense event in that all the competitors knew what they were doing and were prepared, but I think the support from my advisor Mrs. Dunham and from my fellow HOSA peers is really what helped me the most. Last year I actually placed third in the same category, so I felt that this year I was more prepared because I knew what to expect," Panoutsos said.
HOSA vice president Jack Shimabukuro is proud of his fellow peers' performance.
"As for my peers, I could not be prouder of them. Sam Schuy and Diana P. really performed and are moving onto the international competition in Orlando," Shimabukuro said.
Panoutsos was also proud of her fellow peers and their performance. She felt that the camaraderie of the club stood out at the awards' ceremony.
"I was extremely impressed and excited for my HOSA peers that were able to excel at State this year. Everyone within the club is extremely supportive of one another; when anyone from our school's name was called up to the front during the awards ceremony, our entire HOSA group was on our feet cheering each other on. As the president of HOSA, it was so nice to see all of the hard work from my peers pay off. All of us had come in whenever we could to perfect our projects before the competition and all our hard work paid off during the event so I was very excited about that," Panoutsos said.
The future is bright for these students whether or not they choose to enter the health field. Wish the 13 finalists luck as they will head to Orlando, FL  June 17-23 to compete for a national title!