Hana Choi: Vault Comes to a Halt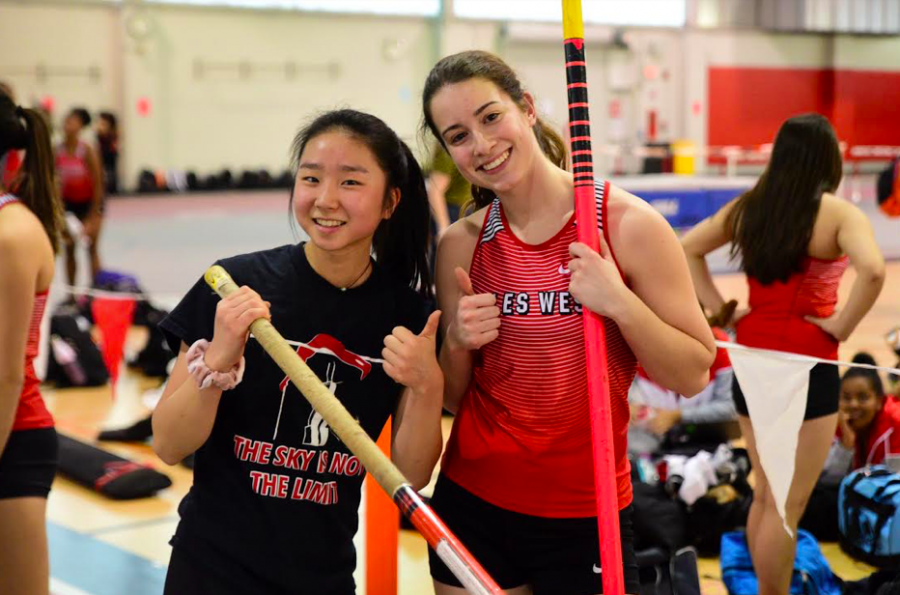 Catapulting herself into the air using a dense metal pole, junior Hana Choi contorts her body with ease, allowing her to pass over a 10-foot bar. For Choi, being airborne is a normal state, as she can literally jump into her dreams.
Choi has been pole vaulting since her freshman year of high school and has always excelled. During her sophomore year, she qualified for sectionals and was all-conference, feats most upperclassmen never accomplish. This year she was supposed to be state bound until she could no longer ignore the sharp pain in her upper body. Diagnosed with multiple labral tears in her right shoulder, Choi was lost and helpless.
"My doctor offered me three options," Choi said. "I could get a cortisone shot, undergo surgery, or quit pole vault altogether. I was hesitant about the surgery at first because that would mean my junior season would be over. On the other hand, surgery would return me back to full mobility. It's not like there was any clear-cut decision to make, everything was in a gray area."
Choi first tried the cortisone shot, which resulted in days of severe pain. It got to the point where even the slightest pressure would be too much to handle. Even daily activities like showering had to be done one-handed.
"I didn't understand how bad the pain was for her. Even a high-five would hurt her," junior Stefi Spasovejic said.
After talking it over with her parents, Choi continued to try less invasive options, including acupuncture and physical therapy. However, nothing seemed to work, and Choi was disappointed to end her track season early in March.
"My doctor laid it out after all of that, that surgery is my last and only option," Choi said.
Throughout the ordeal, coach Jim Lonergan supported Hana through everything.
"Her injury is such a misfortune for her. Of course, the team will miss the points her vaulting and sprinting earn, but it's more about her energy and spirit," Lonergan said. "Thankfully, she will still be at practice and meets; she will be coaching the vaulters with me not as an assistant but as co-coach. Getting her shoulder healthy and strong for next season is the main focus now.  I am extremely confident that the vaulters will actually get better this spring because she will transfer her energy and positive attitude into them."
Lonergan also emphasized that injuries are an inevitable part of being an athlete and has high aspirations for Choi next season.
"Injuries are part of any sport;  they are never of matter of 'if' but 'when'," Lonergan said. "[Choi's] injury was likely caused by her working so hard to achieve her goals. It is unfortunate, but not defining.  It is not a setback but a reset.  I'm excited about where she will be at the end of next year.  She has a vision for May of 2020, and I am confident she will be there."