A Tribe Called West Slams World Poetry Day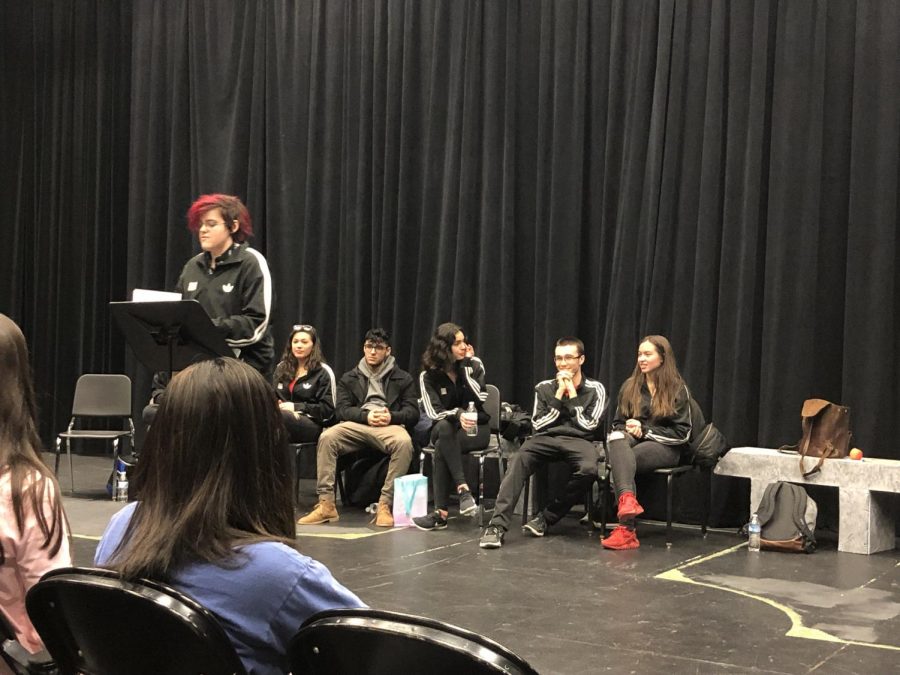 Niles West hosted an event in honor of World Poetry Day with their poetry club called A Tribe Called West and a guest poet, Mojdeh Stoakley. Seven students performed beautiful pieces along with Stoakley. It's a very special day for all poets and literature lovers and was held in the Blackbox Theatre on Thurs., March 21.
A Tribe Called West is a club sponsored by English teacher Paul Bellwoar. Students who are engaged in writing meet on usually Saturday mornings or other days throughout the week. At each meeting, pieces are critiqued by peers and constructive criticism is shared to help out the writer with their skill.
Senior and member of A Tribe Called West Moe Dasser took part in the performance yesterday and enjoyed every moment on stage.
"My favorite thing was the amount of fun we had by just being ourselves and sharing our art with the school, whether it be a beautiful poem about the streets of Lima or a poem about Jesus," Dasser said.
Many students showed up to watch the performances during their free periods. Sophomore Ela Kinaci was glad that she attended the poetry slam.
"All the students in A Tribe Called West and the guest speaker had the chance to either recite an individual or group poem," Kinaci said. "They spoke about everyday teen issues as well as personal life experiences. I liked how a lot of it was relatable and there was also humor involved. I've never been to a poetry slam before so it was new and interesting for me."
Although there was a great turn out, a good amount of students were unaware of World Poetry Day overall. Junior Ana Urosev didn't know about the event and was upset she missed out.
"I didn't know A Tribe Called West was performing until I saw it on the Niles West News Snapchat and Instagram," Urosev said. "I would've gone because poetry slams are so interesting to me, but no one told me about it. I wish they spread the word a little more about it so my friends and I could go watch. I hate that I missed out on such a good opportunity, but hopefully next year they'll do it again and I'll be able to come."
A Tribe Called West overall had a great turnout and moved the audience with their powerful pieces. If you enjoy writing or poetry, you may want to consider joining A Tribe Called West.