'Next Steps' Meeting Helps Juniors Prepare for College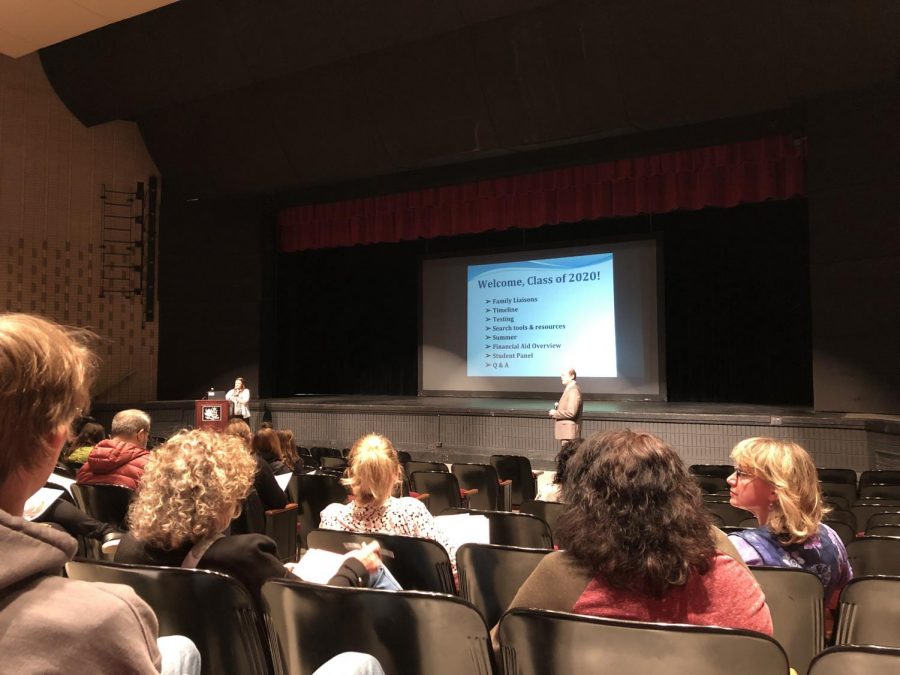 On Wednesday evening at Niles North, juniors, parents and college counselors discussed college readiness at the 'Understanding the Next Steps' meeting. The event aimed to give parents and students information about test scores, careers, the college application process and financial aid.
"The program evolved out of students and families wanting to get a head start, so we started this so they can have a good game plan over the summer," national college advisor Jerry Pope said.
The program, hosted by college counselor Daniel Gin and Niles North's college counselor Allegra Giulietti-Schmitt, encouraged students to think outside rankings and choose a college based on what fits their own needs.
"Everybody in this room is a little bit different, and we want to find out what's right for you," Gin said.
The counselors emphasized that students should begin the process by first asking for letters of recommendation from trusted junior year teachers. Letters from years prior were discouraged.
"One from sophomore year would be fine, but students change quite a lot from freshman year until the time they graduate," Giulietti-Schmitt said.
The subject then turned to testing, where the counselors clarified that students can and should take the SAT or ACT multiple times if they're not satisfied with their scores. They also described the differences between the two tests, while acknowledging students usually have similar scores on both.
"It can never hurt to try both on for size," Giulietti-Schmitt said, encouraging students to see which test works best for them.
The counselors also recommend summer school, work, internships, volunteering and visiting college campuses over the summer to benefit students' applications.
"It's never a bad time to go visit schools," Gin said.
Regarding college essays, the hosts recommend that students consider their passions, brainstorm and read the questions thoroughly before they start writing.
The counselors also explained the Common Application. Students can check on Naviance to see which schools accept the Common Application by looking for a "CA" logo.
"Counselor recommendations and teacher recommendations can all be sent through the Common Application, and [the application] streamlines the process more easily for you," Giulietti-Schmitt said.
IACAC Camp College and IACAC Motivate Me, summer institutes which prepare students for the application process, are also recommended.
Similar upcoming events include a Senior Night to be held at the beginning of the 2019-20 school year.
The meeting then featured a presentation from an ISAC (Illinois Student Assistance Commission) representative. The representative promoted the commission's Student Portal, a college-planning resource. The portal features CollegeGreenlight, a scholarship search site, as well as FAFSA resources.
The program concluded with a panel, where two students described their experiences with the application process and committing to colleges. The students recommended starting supplemental applications early, as well as having a list of colleges to apply to before starting senior year.