Sidra Khatoon: One Last Shot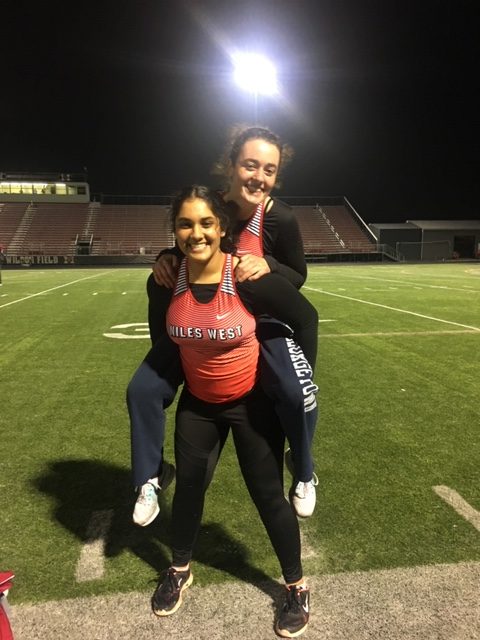 Standing at 5'3″, senior Sidra Khatoon, winds up her arms and pushes all her strength in one throw. As she launches it, the heavy iron ball stops short in the sand.
Within a short period of time Khatoon has become one of the most valuable players on the track team–  starting out as a junior being a shot put and discus contestant. Prior to Khatoon's involvement in track, she dedicated most of her time in the gym preparing for volleyball season. It was her friends in the weight room that encouraged her to take up track instead due to her outstanding strength.
"It was because of Alba Note and Hana Choi," Khatoon said. "We all worked out in the weight room and they told me I would be a great thrower (since I was strong). I went to the first meeting and first practice and liked it, so I stuck with it."
Upon joining, Khatoon underestimated her abilities, considering she joined the track team only junior year. She thought that she wouldn't be put in any of the meets because she wasn't experienced, but that soon changed as she pushed herself even harder in the weight room.
"I honestly didn't think I would be any good, but because I was in the weight room so often trying to get stronger, all that strength transferred. I went from being one of the worst throwers to one of the best, and I ended up competing at the majority of the meets," she said.
Her hard work in the gym is also apparent in her new personal record. Khatoon spent her first semester and the entire summer in the weight room to improve her distance. Compared to last year, she has thrown 20ft further in discus and 5ft further in shot put. Khatoon has also gathered a good amount of impressive titles. She received 3rd in conference for discus, 2nd in discus at the Mark Medland Invite, and 1st in discus at the Glenbard East Invite.
Overall, Khatoon has shown extreme determination in her two short years on the team.
"She's been in the weight room for years now and I've never met someone who works harder than her to accomplish her goals. I've always seen her determination and I know she's going to keep doing great things this season," teammate Alba Note said.
Khatoon's support from her team members is one of the main factors that kept her on the team and gave her the motivation to improve.
"People should join track because it's a no-cut sport, so even if you don't happen to be the best runner or jumper there's still a chance to practice and get better," she said. "Everybody is so supportive. Although it's an individual sport, I can confidently say that track is one big family."
Khatoon is definitely a certified busy body with her involvement in track, yearbook, and National French Honor Society.
Khatoon possess qualities that make her a leader in every activity she's involved in. Specifically, in yearbook, Khatoon shines in the classroom and is the driving force of the production.
"She basically runs the show: she's amazing, she's responsible, she's efficient, she has managed to make it a year without anybody bursting into tears. She's amazing," Sharon Swanson said.
Her hard work at west is noticed by all teachers and students who know of her. After making the shift from volleyball to track, Khatoon can easily say that making the switch has made her sports career ten times more rewarding.
"I honestly can say that track has been such a great experience and I'm glad that quitting volleyball brought me to this," Khatoon said.
For her next fours, Khatoon will be attending University of Illinois in Urbana Champaign studying computer science and mathematics in hopes of becoming an IT.