2019 Boys Varsity Gymnastics State Preview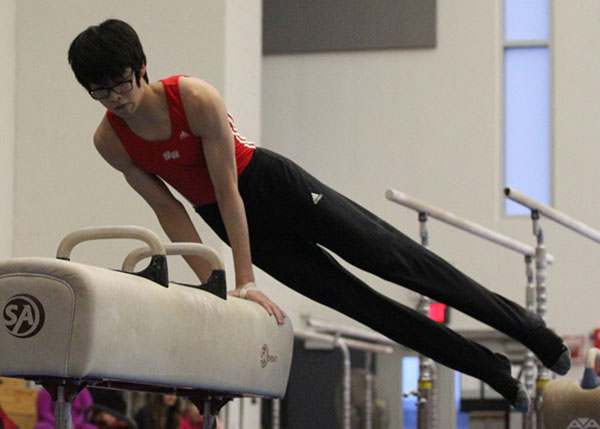 In all types of sports, no matter the kind, the goal is always to be the best. This Friday, May 10, the Boys Varsity Gymnastics Team will be heading to Hoffman Estates for the chance to be crowned the best team in Illinois. Last Friday, the boys' team won their sectionals to advance to State.
The 2016 Boys Varsity Gymnastics team was able to bring home an IHSA state title, and this year, now seniors Jack Nguyen, and Ricky Zhang, both hope to relive the glory they had during their freshmen year and be contributors to a new state title.
"Our goal at state is to hit 162 and win. It would be amazing if we won because as a freshman, the varsity team won state and now that I'm a senior, we have another chance at winning," said Nguyen.
In order for the team to win state, they must be able to improve on their already exceptional performance at sectionals, as there is always something to be improved.
"We had some inconsistencies with some of our routines. Over the next few days we will be attacking the inconsistencies in order to come out strong on Friday," said Zhang. Zhang also believes the team energy was a big contributor to their sectional win. "As the first person to compete in the first event, I feel that my job is not only to score high but get the team going with positive energy," said Zhang.
Sophomore Murun Jamiyankhuu is also incredibly pumped for his first state appearance. His older brother, Dalai Jamiyankhuu, was a significant contributor to the team that won the 2016 title, and Jamiyankhuu hopes to not only fill his brother's shoes but exceed them by large margins — getting more state titles to be exact.
"I am extremely excited to go to state because I want to get more state titles than my brother," said Jamiyankhuu. At sectionals, Jamiyankhuu was able to collect four individual awards.
With the team having improved from the first day of practice to be a dominant force in the conference thanks to their excellent work ethic, the state title does not seem unattainable. The pure talent and grit of the group combined with the dedication, determination, and energy the team possesses, makes them feel that they have all the components to achieve their goal of getting the state title and "bringing home the biggest trophy," as said by Zhang.