Annual D219 Fashion Show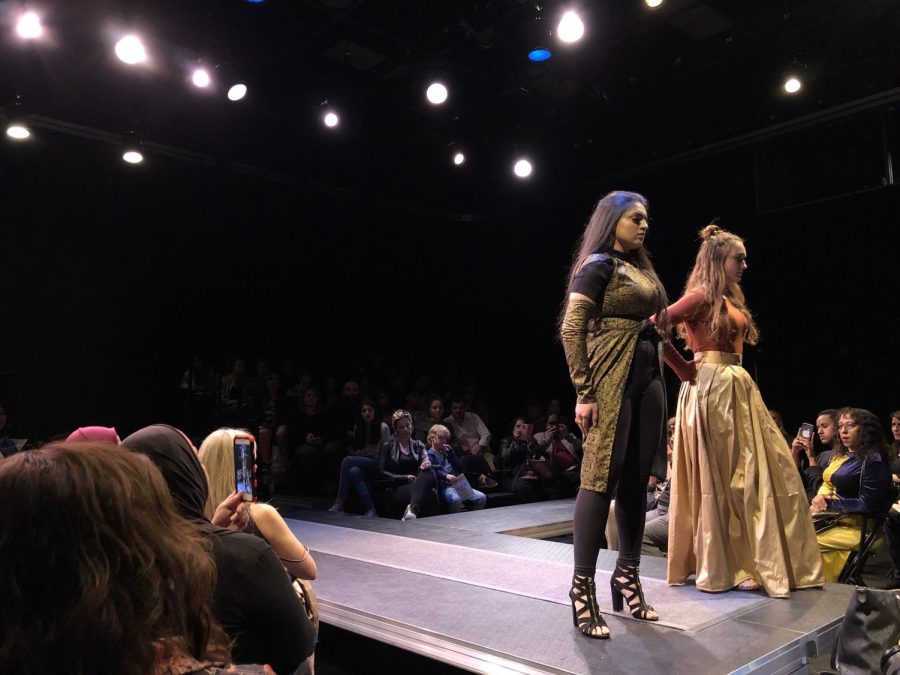 The annual D219 Fashion Show was held at Niles West On Thurs., May 9. At this show, students from both Niles North and West had the opportunity to show family and friends the pieces they have been working on throughout the lengthy school year. Although having a piece of work in the show was for their grade, the students looked at it as a way to show everyone their own styles. From both schools, an astonishing 102 students are enrolled in a fashion class, whether it is level one or workshop.
Starting at 6:30 P.M. the countless hand-sewn clothing pieces were all walked out in just under an hour. Held in the black box theater, the students modeling had a spacious runway to strut their own work or friends work in front of a seat filled crowd.
"I was really nervous before I walked out because all of my friends are out there, and I've never really modeled before," said freshman Amayma Hamid. "But it has always been a hobby of mine."
Another student at Niles North, junior Dafina Rexhepi, didn't just model pieces, she made a couple of her own.
"Well, this is my first year in fashion and getting experience on the garments is really, you know, new to me, but I really enjoyed my first year of fashion," Rexhepi said.
Maya Cayemitte, a senior who is in workshop, has been working with fashion for as long as she can remember.
"I have been obsessed with clothing ever since I was younger, I would never let my parents pick out my clothes because I always wanted to pick them out for myself," Cayemitte said. "Fashion has just always been an interest of mine ever since I could remember. The most difficult part about it is probably the time since we only have 42-minute periods. It is kind of difficult to start, finish, and then pick it back up the next day, so it is kind of nice that I have double periods because then I have more time to sew my collections."
One senior who has never taken a fashion course wanted to model some pieces in the annual show.
"I decided to model for this show because I have always wanted to be on a catwalk, like a little Victoria Secret angel, just doing my own thing, and plus the outfits were really cute I could not have said no. I was so nervous before I went up though, I have such bad stage fright it is so bad, but I still had so much fun," said senior Brianna Thillet.
All in all, the annual D219 Fashion Show was a success in the community. With more and more students becoming interested in fashion, or level one students moving up to workshop, the show will only become bigger and better in the years to come.