Manchester City Crowned Premier League Champions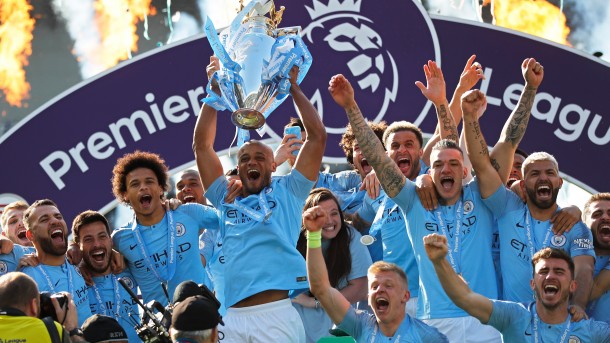 This year's Premier League champions are, unsurprisingly, Manchester City. Guardiola's side was crowned back to back champions on Sunday after a 4-1 win against Brighton, earning them the title. City completed the season with 98 points, which equates to 32 wins, 2 draws, and only 4 losses. Although their season seemed to be impeccable, surprisingly, City came back from a 10 point deficit to overcome former first place team, Liverpool F.C. in order to claim their title.
"When they won, I was happy for them. I think they deserved the title because from the beginning of the season, you could see the work they put it and they worked as a perfect team to win the title," said sophomore Faris Rahic.
The Reds and City were the only two title contenders once you got near the end of the season. This is clear in the table because once you get to the third and fourth place team, which are Chelsea and Tottenham Hotspur, respectively, their point count is only 72 and 71 points, compared to the massive 97 and 98 points Liverpool and Man City have. This difference is clear evidence that this title race was one for the books.
City went on to win 14 games in a row in their domestic league, and this put them at the 98 points they needed to win the title.
Despite their world class run in the last few games, it is still up for debate on whether City deserved the title. "I firmly believe it should have been Liverpool with the title, as they played Brighton for the determining game, a team that isn't even close to the top of the top," said sophomore Adel Choubkha.
Last year's City team has been talked about as one of the best to ever play, and it seems they have not dropped their performance from the past year. Players such as Kevin De Bruyne were last year's standouts, but this year he seemed to be nonexistent. Despite the lack of presence by a major contributor to the team's 2018 title, players such as Fabinho and ?lkay Gündo?an were major contributors to the title with the absence of De Bruyne.
With the recent form, Liverpool has been in, they do not seem too far from achieving the same status, and in the coming years, it does not seem so far off to put Liverpool winning a league title, or maybe even two. "I think if Liverpool doesn't lose anyone, possibly signing more players in the summer transfer window, they will bring the Premier League back to Anfield, and if they win the Champions League, it will also motivate them even more," said sophomore Aldin Perazic.