NARWHALS Plans New Environmental Advocacy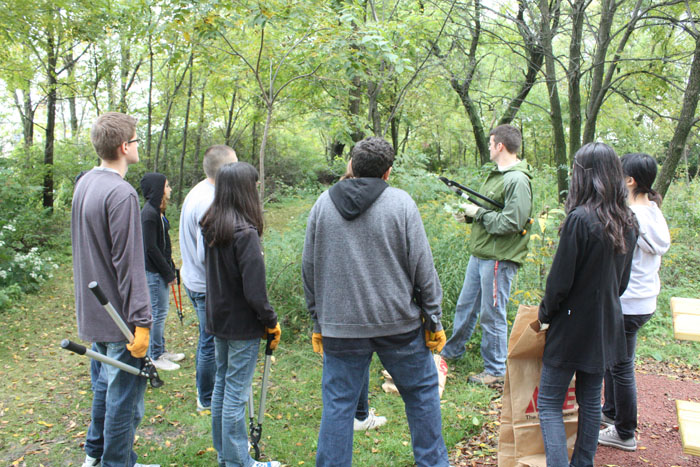 Niles West's environmental preservation club, the NARWHALS, is beginning another year of caring for our local environment, one restoration project at a time. This year, the club is planning service projects, volunteer days, and caring for the Niles West prairie. This will be the club's twelfth year in service.
"NARWHALS is a club focused on exploring environmental topics. We have a lot of fun going outside, preparing environmentally friendly food for bake sales, and watching movies about environmental issues," senior Libby de Klerk said. "It's a lot of fun, and everyone should join."
"I like being around people with similar ideas about the environment," sophomore Laura Perez said. "The volunteer work we do is fun and rewarding as well."
Last year, the club hosted an environmentally friendly bake sale, selling food prepared from sustainable ingredients. They also participated in a local reptile conference, showcasing native reptiles downtown. Volunteering is important to members as well, as they took trips to local forest preserves, helping to clear out invasive species and pollution.
The club aims to do more volunteer work this year, both in terms of workdays and in-school efforts. Club leadership is designing shirts for the members to support club enthusiasm.
Members aren't just dedicated to saving the environment, but also to building community with those around them. To many, the best part of the club's community focus is the service mindset it fosters, and the sense of accomplishment that preserving the local environment gives.
"The best thing that I think we do is promoting this awareness that club members have of the world around them, thinking beyond themselves, and realizing that they can make a difference if they're willing to put in the effort," club sponsor and biology teacher Tom Jodelka said. "I get a lot of joy personally from our workdays, seeing people come in, maybe not wanting to be there, and leaving with a big smile on their face and a sense of accomplishment."
The club does most of its preservation work in the Niles West prairie and monthly workdays in local forest preserves. Members clean up natural areas by removing invasive species, introducing native plants, and picking up trash and litter. NARWHALS also collaborates with other clubs on Wolfpack Gives Back days, school-wide volunteer events coordinated by Student Activities.
NARWHALS meets on Tuesdays in room 2420, from 3:30 PM until 4:15 PM.