Gone But Never Forgotten: Orange Is the New Black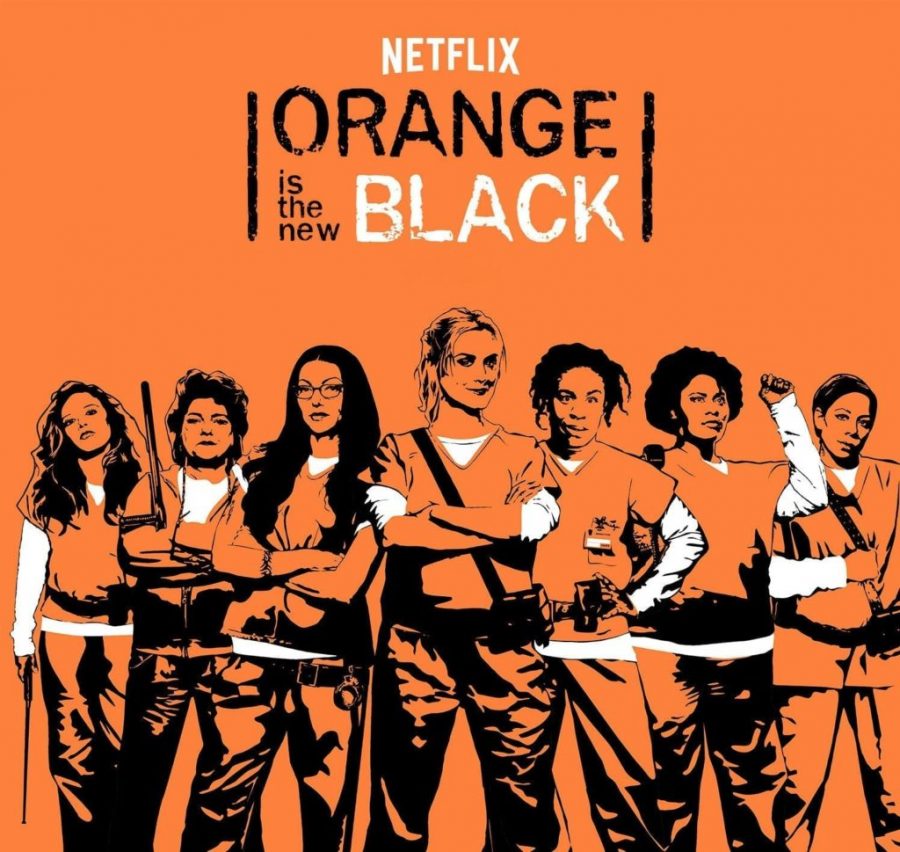 On July 26th, 2019, after six years of being featured on Netflix as one of the most successful original shows "Orange Is the New Black" comes to its final season. With all the praise and joy this show brought to many of its fans and viewers, it's disheartening to see the show come to an end.
Throughout the final season, "Orange Is the New Black" continued to take place in a women's maximum-security prison in Litchfield, New York. The season focused more on how Piper Chapman, played by Taylor Schilling, attempts to manage her parole and life outside prison after being under maximum security for seven years.
Chapman struggles to find herself and live with how different her life has become after prison. She looses what she finds the dearest to her, as she's now become separated from her partner, Alex Vaus who's played by Laura Prepon and continues to stay in prison to finish her sentence. While finding herself and her place in the world, Piper realizes how hard it is to try and maintain a relationship with one person being in prison. What I found annoying about this aspect of the show was that no matter what the two did to try and save their relationship, there was always something in between them and it made me extremely irritated.
The show also focused on how the other inmates were coping with the idea of still being in prison and how cruel the justice system truly is. A key character who underwent a sentence and trial that was completely unjust was Taystee, played by Danielle Brooks. The show goes in-depth on how Taystee attempts to find either a meaningful purpose for her life or to just end it all. Following her story and knowing where she came from kept me at the edge of my seat, as I continued to hope and pray she chooses the right path.
A few of the starring inmates in the show experience the torturous impact of solitary confinement in the SHU throughout the beginning of season seven. Once they get out, they begin to fall along the path of finding their redemptive or tragic end. Characters such as Red, played by Kate Mulgrew, Lorna, played by Yael Stone, and Pensatucky, played by Taryn Manning, all face a surprising yet emotional end on the series (due to the heartfelt endings, I will not be sharing them for the fear of spoiling the show.) As a big fan of Red, I'll always have a special place for her in my heart.
A crucial topic of the show involved the world of immigration, ICE detention centers and deportation proceedings, which was a new direction the writers took for this show. The way the writers conveyed this topic that has repeatedly been prone to creating much drama in today's current events, did a fantastic job of connecting it to issues the US has been dealing with and still, present a solid look into the depressing crisis.
In efforts to not spoil who ends up in the ICE detention centers and what happens to them, I'll just say that it was inevitable, awful and shocking to understand how most of the things that happen to the characters of the show, actually happen to real people out in the world.
From my first time watching this show, I never thought that I'd become such a huge fan of it. Netflix created a show that was unique and showcased a different side of prison life, and still brought great comedy along with it. The personalities and roles of each character always made me smile and laugh out loud, keeping things interesting at all times. To the emotional storylines, wild adventures and realness of the show, "Orange Is the New Black" is most definitely a must-watch show that Netflix did extremely well on. I'd rate this final season and TV show, in general, a 9 out of 10 stars and highly recommend watching it.