2019 Girls Cross Country Preview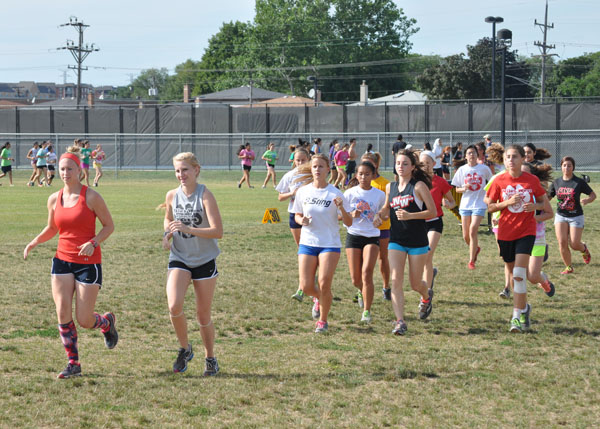 Hang on for a minute...we're trying to find some more stories you might like.
It's the first day of practice– freshmen nervously walk into the pool hallway unknowing of what is to come, and the sophomores are full of energy as they are ecstatic to no longer be the freshmen of the team. As for the juniors and seniors, they casually stroll in ready to get back into shape with the new cross country season.
Regardless of their year in school or position on the team, all the girls are excited for the season to begin and to get out and compete with all the other girls around the conference.
Specifically, sophomore Dia Patel already has goals in mind for her second year on the team. She plans to run her absolute best throughout the season.
"I am very excited for the season, and I'm ready to PR," Patel said.
The freshmen are looking forward to what their time on the XC team will be like. They are nervous, but at the same time excited to begin their first season
"I'm excited to try something new and see what the season is like," Freshman Lizzy Hernandez said.
The seniors are also looking forward to the season, but as this is their last year, they are left emotional. They hope to have fun first and foremost, but they also plan to do their very best this season compared to the last few.
"It's my last season of cross country, so I am a little sad to leave next year, but I plan on working very hard and improving as much as I can during the next few months," senior Hannah Yun said.
As for the coaches, head coach, Anne Heselton, is looking forward to seeing past athletes continue to improve and the new ones to follow in their footsteps.
"We have a good group of returning athletes and are looking forward to seeing steady improvement and a focus on teamwork,"
Assistant coach, Joyce Van Alstin looks forward to the potential of the athletes this year. There are girls from each grade level in school, and the veteran runners are ready to lead the new girls into the season.
"We have a lot of new girls and a lot of talent this year," Van Alstin said.
Overall, the entire team is more than ready to start the season. The girls are anxiously waiting to explode off the start line, running straight towards victories and personal records. The team is filled with veterans, and new girls alike, and they all have one thing in common, they are more than ready to start racing.