Steve Parnther: From Student to Assistant Principal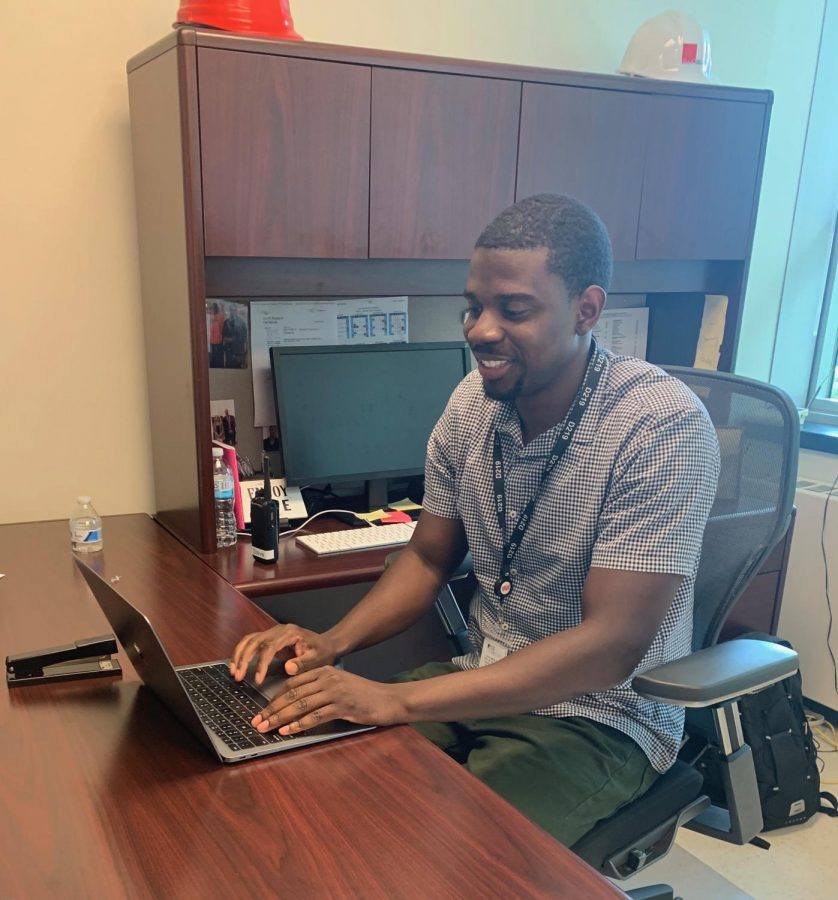 The year is 2007. A varsity basketball player and track jumper named Steve Parnther laughs with his friends as they walk through the Niles West halls, goofing off with each other. He attends his classes, loving business with Jean Attig, because the projects and activities are about real life. It is fun and engaging. He also enjoys English, because of the opportunities for connecting with others. After school, he goes to practice while Eric Lueder critiques his every move, showing him that a sport is more than a game. It is also about real life. However, Steve Parnther does not focus on this; instead, he counts down the days until graduation.
Fast forward to the fall of 2019. He now walks the halls with a different title: Mr. Parnther, Assistant Principal of Operations.
Parnther described his climb to the assistant principal as a full circle. After graduating from Niles West in 2007, he went on to become a P.E. teacher. From there, he became the athletic director and then a dean at Niles North. Once the position for the assistant principal of operations opened up at Niles West, he decided that was the perfect time to come home.
Parnther also does not fail to thank Niles West, because, in his opinion, it is what he learned from Niles West that got him here. He also spoke about how coming back to his old high school had left him feeling a little emotional when he first walked the halls again.
"When I first got the job, I kind of just walked around and I was kind of having this moment of wow, I'm here. I'm back," Parnther said.
Parnther loves Niles West so far because of the culture and the many opportunities for both staff and students. He is happy to walk the halls again and interact with some of his old teachers, although he said at first it was strange to talk with them as the assistant principal. However, he did adjust. At the end of the day, there is mutual respect despite some of the staff having stories of him from his high school years. Specifically, Parnther thought of one story that he heard from his former basketball coach.
"There's a story [my basketball coach] likes to tell. So, when I was a freshman, I was asked to move up to the sophomore team. So, I said no, because I said I wasn't ready. I was a little scared. I had my friends on the freshman team, and to me, the loyalty was more important. I didn't understand that moving up had better people and things like that," Parnther said.
Now, a member of the administrative team, he accepts new challenges that come his way with a curious spirit.
"I like being new because when you're new you naturally have to ask questions, you have to listen more, you have to learn and navigate in that regard," Parnther said.
Like students and staff, Parnther has multiple goals for the new school year. He hopes to become a positive role model for students and help them reach their full potential. And an important part of this is building relationships. Parnther wants to give back to Niles West by telling his stories and having the students feel comfortable to open lines of communication. With open communication, people have more confidence to speak up when they believe a change is needed.
One of his biggest goals is how he will interact with students, and he uses what his past teachers have done as inspiration. "I take what they've done, and I try to add that because I'm like, 'oh, that made me feel really good as a student' and I try to see, 'oh, what makes the students feel good right now?'" Parnther said.
Finally, when thinking about this school year, Parnther finds himself very optimistic. He is ready to create many connections with people and be able to look at Niles West through a fresh lens.
"I'm looking forward to the year. I'm looking forward to visiting clubs and sports and meeting new students and learning about all the new things that Niles West has to offer now. I'm just happy to be here," Parnther said.