Culture and Connection: Dr. Ritter's Vision for West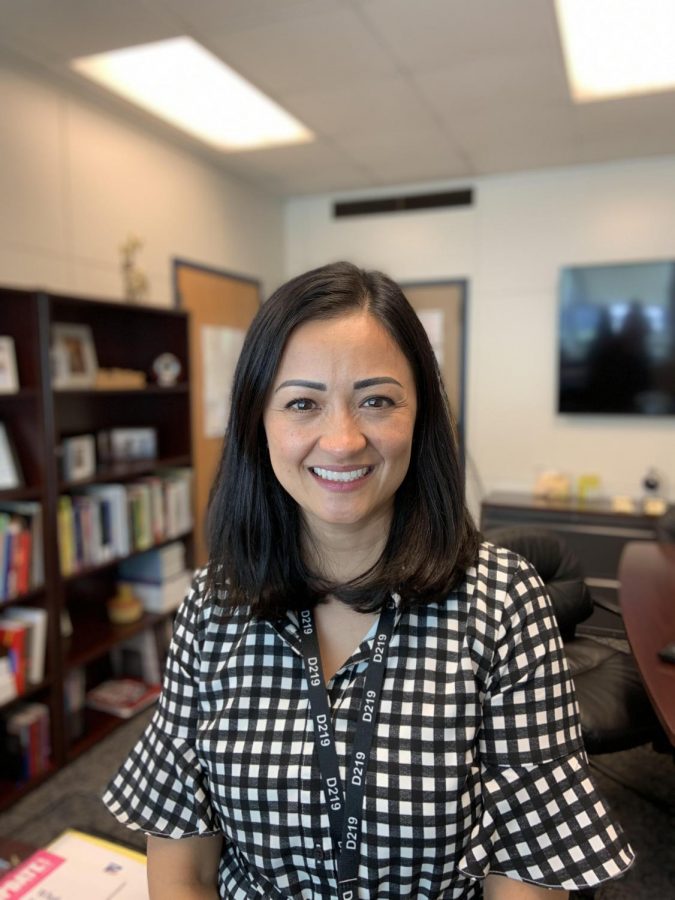 Walking through the halls of Niles West, Dr. Karen M. Ritter carries a smile on her face, greeting students she knows and introducing herself to new faces.
"I'm someone who likes to be positive, likes to be happy, and I want to make sure everyone else is, too," Ritter said.
The District 219 School Board approved Ritter Niles West's principal on April 22, and she started as principal on July 1. So far, Ritter has been impressed with Niles West and said that she's "never felt like [she's] been so welcomed in a school right from the beginning."
She believes that the biggest advantages of the culture at Niles West are the different perspectives and the high level of respect given to them. Ritter also described Niles West as an energetic and lively high school, and one of her goals is to build on these strengths.
"This year it's mainly to ensure that we have a safe building and that we really develop positive relationships between teachers, between students, and between teachers and students, and the administration," Ritter said.
Ritter is all about connecting with others, and she thinks one of the most important things she can do as a new principal is to get to know the student body. She's been greeting students at the door when they enter the building, saying a quick hello during passing periods and making an effort to try and learn students' names.
"There's a lot of people here so it's challenging–I will recognize a face but not remember the name, or I'll hear a name but I haven't met that person yet, so I'm just trying to get around and listen a lot and learn as much as I can about the people make up the community," Ritter said.
Outside of her work at West, Ritter is a mom to two girls.
"I think being a parent gives you a different perspective when you are in education. You always think, 'would I want my child to experience this, would I want my child to have this opportunity?' and you think you should be doing that for all students," Ritter said.
Ritter understands the stress that teenagers have and sees how the weight of school can sometimes weigh down her daughter, an incoming freshman. She feels sympathy seeing students so overwhelmed over schoolwork, especially because she is a person who enjoys learning.
"I just want to make sure they feel supported at school, because I would want my kids to feel that way at school, too," Ritter said.
While reflecting on her own high school experience, Ritter mentioned that she wished she had joined more clubs during high school, especially theatre. She gave a few words of advice to current and incoming high schoolers, emphasizing getting involved.
"We say that every year to students. I know it can be frightening sometimes to put yourself out there and join a club that you have never done before or that none of your friends are doing, but I think that the relationships that you develop with new people in different types of groups make you a better person. It just makes you happier overall," Ritter said.
During her own high school years, Ritter kept herself busy. She was on the girls' gymnastics team all four years, active in French club and part of National Honors Society.
Ritter's advice for staff members is to get to know the students. She believes that the more staff members can learn from the students, the better they are able to teach them.
Ritter's greatest goal is to keep this school year positive and enjoyable. She said that school shouldn't be a place where students dread coming to every day, but rather an exciting place where they can look forward to learning.
"I know there are times of the year that are more stressful than others, but let's try to keep this positive momentum going throughout the whole year," Ritter said.
By the third week of school, students and staff were already impressed with Dr. Ritter's performance and impact on the school.
"It's been a great start to the year. I've seen Dr. Ritter in classrooms and hallways and meetings, and it seems like she's been friendly and helpful and supportive. I'm excited to see how the year proceeds," world languages teacher Tapan Patel said.
"She's been making sure that everyone feels like they belong at Niles West," sophomore Hita Bharwad said.
Dr. Ritter's executive secretary Judy Wheatman enjoys working with her.
"She's doing a wonderful job. She's out in the hallways connecting with the students and staff. It's just awesome," Wheatman said.