21 is Adele's Golden Year!
By Maridsa Choute
October 5, 2011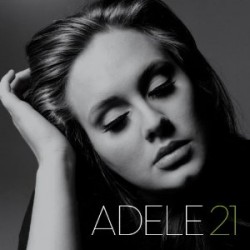 Adele recently performed her beautiful ballad, "Someone Like You," at the 2011 VMAs accompanied only by a man playing a piano, and received a standing ovation for her performance. Just recently, the song soared to number one on the Billboard's Hot 100, making a name for herself as one of the biggest leaps in Billboard history. So what's so incredible about Adele? Her album, 21, is beautiful in all aspects.
Overall, this was a great album to listen to. She has a different understanding of music that many artists these days do not have. Adele's sound is soulful, and this album takes an interesting take on the singer's broken heart. The central theme is heartbreak and a lover's revenge. She starts off with the popular single, "Rolling in the Deep." This was a fun song to listen to, but after hearing this on the radio so much, I've basically given up on listening to it. She has attitude in her voice, and she uses her power to get over her failed relationship.
"Rumour Has It"- This song is another fun, upbeat one. However, I wasn't amused by it, and I don't think that it was one of the best. I don't think that her voice is best on faster songs like this.
"Turning Tables"- This is one of the best of the album is the first of her ballads. When I first heard this song a couple weeks ago, I was moved, and so caught up in this, that I didn't realize until the end that the version I listened to was a live performance.
"Don't You Remember"- This song is heartbreaking. I can tell that she misses someone. The way I interpret the lyrics, I can tell that her boyfriend has given up on their relationship, and she just wants it back. She sings to a guy, presumably her ex-boyfriend and desperately tries to remind him why he loved her in the first place. It makes me feel bad for her, and I wanted to cry just by listening to this.
"Set Fire to the Rain"- This was a good song, but compared to the other ones, this wasn't my favorite. I didn't like it as much because I'm not quite sure what she's really trying to say here. I can hear her pain in her voice and her will to fight to get over it, but I don't understand what she means when she sings, "I set fire to the rain, watched it pour as I touched your face." Maybe other fans will understand the heartbreak, but I don't.
"He Won't Go"- This song is about the haters she had because of her relationship. All of her friends are telling her to leave right now and forget him, but something is telling her not to. She's willing to fight for the relationship, singing, "I'm willing to take the risk." Whether or not her friends are right, at least she wants to try and find love.
"Take It All"- Another break up song, this time it gets a 5 out of 10. He calls this guy a fool and wants him to leave her and take the tainted love he gave her along with him. I wasn't very fond of this song just because at this point, it feels repetitive. I've heard these lyrics before, and I've felt her pain in seven other tracks before this. Right now, I want to hear something else, hasn't she ever heard of being in love?
"I'll Be Waiting"- I requested for something different, and I almost got it. This song is about waiting for this guy, but I am a little confused. Who said he's coming back? This song goes on the bottom of my absolute favorites. Even though I love her voice, this song doesn't do much for it. I like the sound and the instrumentals in the background, I didn't like the lyrics, she sounds a bit whiny here.
"One and Only"- This song is better than the last one. She's trying to convince someone to let go of their fears and let the past be the past. She wants him to love her, and she keeps reminding him to let her be his, "One and Only." Clever. I like that this song is slow, and you can really feel her emotions in this one. It's never easy for someone to let go and ready to fall in love after their heart is broken, but she's trying.
"Lovesong"- This is the only song on the album that Adele did not contribute to writing. This ballad is about always loving a guy, no matter the distance or the arguments they get into, she will always be in love with him. I like this song, even though it is a little depressing, I like that she's willing to stay with him.
"Someone Like You" – I give this one a 10 out of 10. This song contrasts her first song, "Rolling in the Deep", in which she comes out saying that she's going to get over it, her ex-boyfriend will regret ever leaving her, and he will never get another chance with her. But "Someone Like You," is the opposite; she misses him.
Overall, this was a great album. I really love her voice, and the connection she has with the lyrics. It's great to listen to music with meaning, instead of the usual party music that plays relentlessly on the radio these days. I know that this won't be the last we've heard of Adele.