Class of 2020: Getting Ready to Start a New Adventure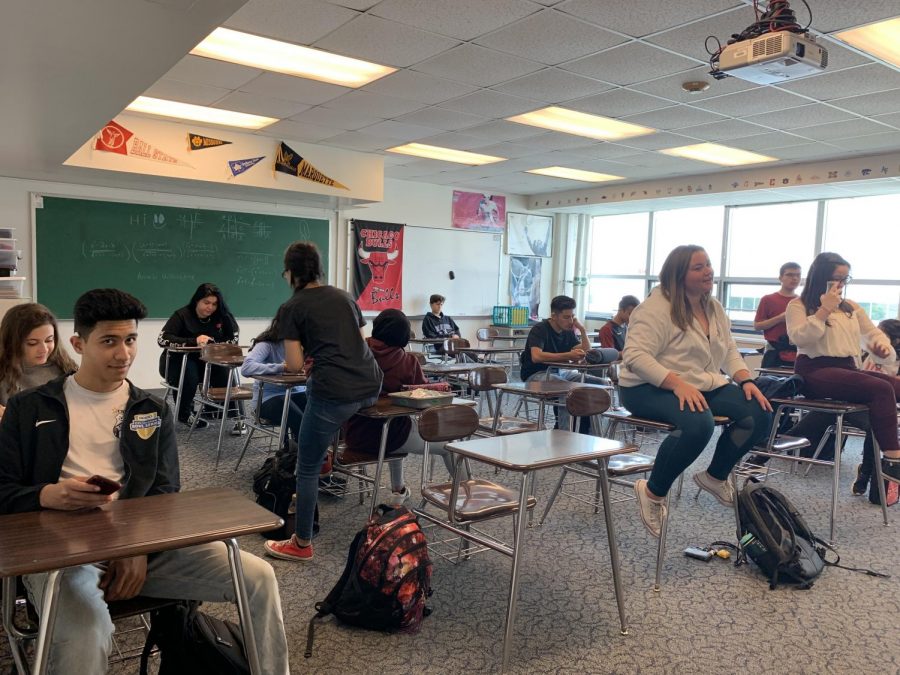 Walking through the hallways for their last year in high school, the seniors of Niles West have a lot on their mind like what colleges will they be applying to, what are they going to write about for their personal statements, will they do well on their last chances for the SATs and ACTs? But in the back of their minds, they find it hard to believe that in less than a year, they will be accepted into college and preparing for a new experience and adventure.
"Personally, I am sad to see my high school experience come to an end," senior Kenji Murakami said.
However, he believes that he is ready for the college environment. "Ultimately, I'm excited about the future, but I'm also trying to have as much fun as I can right now," Murakami said.
Having fun and enjoying the 'lasts' of their high school experience seems to be a topic of importance in the minds of many seniors.
"I'm enjoying high school as a senior because junior year was really difficult and stressful," senior Michael Tiran said.
Senior Sofia Joseph believes that like her, many students didn't have the opportunity to live out the high school experience due to the workload and studying they needed to get done. However, she believes that this year will be her chance to finally experience high school in its true form.
"I'm super excited to go to all the 'classic' high school stuff," Joseph said. "I really want to experience stuff like football games, homecoming, and prom– and I really want to ditch."
While senior Amani Laliwala also has her list of 'classic' high school norms she wants to experience, she also wants to participate in certain strange activities that she's seen seniors from previous years take part in. "I want to hang out at Target or get frozen yogurt at 10 pm on a weekday," Laliwala stated.
Many seniors believe that although they have the stress of college applications on their mind, this year is significantly less stressful than their junior year, which was filled with the pressure of doing well on the SATs and ACTs, all while maintaining good grades as they would be the last to appear on their transcript and change their GPA.
"Honestly, senior year has been one of the easiest years. I'm done with almost all my requirements so I'm taking a lot of electives. I'm doing things I enjoy and I have more time on my hands so I'm not as stressed as previous years," senior Ameera Abdeljabar said.
This year, with most of their requirements out of the way, the seniors were given a lot of flexibility and variety in their schedule, so they were able to take classes of their choice along with electives that they had been putting off in their previous years.
"I've joined speech team, I'm doing AP Literature and Literature of Peace and Nonviolence, and I'm just getting more involved," senior Ryan Volpe said.
However, many seniors believe that this year is more stressful than junior year due to the pressure surrounding college applications.
"College applications are stressing me out because I'm the oldest child and I'm also a first-generation so I have to figure out everything on my own like applying, FAFSA and the essays," senior Saeeda Noor said.
Noor stated that most people she knows are also the eldest in their family and first-generation, so they share the same stress and pressure that she does.
Senior Gabriela Estevane is one of those students. "In my junior year, I just had to stress about the SAT. Now I have to stress about applications and FAFSA. I have to figure everything out by myself which complicates things for me," Estevane said.
Estevane feels that some guidance from a parent or an older sibling would definitely make the process a lot easier for her. "A lot of the time, I don't know what I'm doing. It's really hard," Estevane said.
For some students, the feeling of overwhelmedness from junior year has carried on to their senior year. "I feel as if there is not enough time in my day for everything n0 matter how hard I try," senior Crystalin Chau said.
While this first semester of senior year may seem overwhelming, difficult, and stressful with the pressure surrounding college applications, FAFSAs, and personal statements, there is still one aspect of senior year which every student will enjoy to their full extent: senioritis.
"It's the 'I'll think about it tomorrow,' mindset," senior Anthony Cimpean stated. "For me, it's already kicked in."