Open House Welcomes Families to West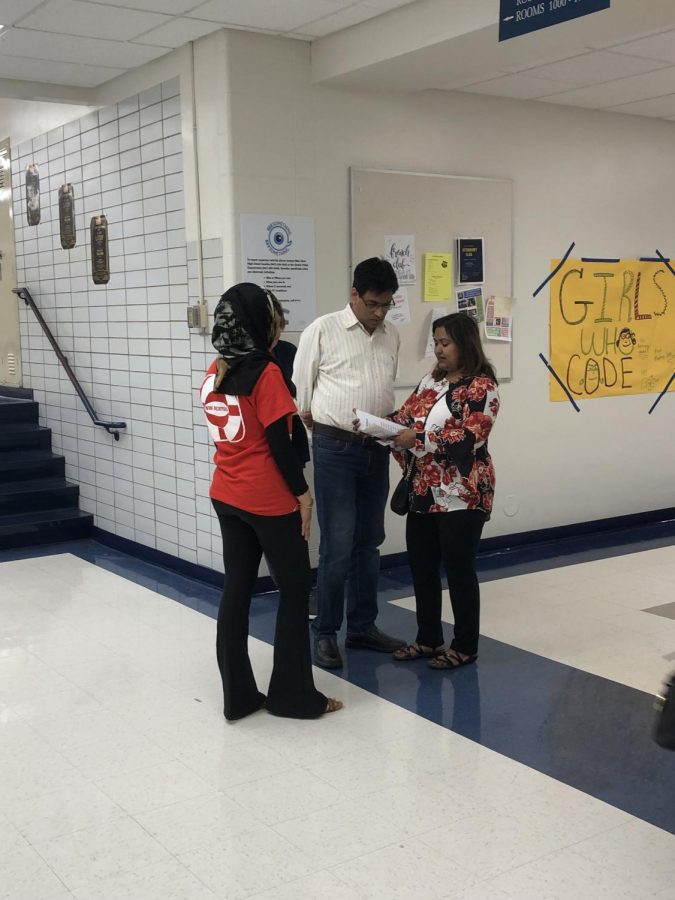 Families came to Open House night Sept. 5 to meet teachers, walk through students' schedules, and see the school facilities.
The event began at 5:45 PM and ended at 8:15 PM. Each class lasted ten minutes, with a five minute passing period in between.
Parents followed their student's schedule, attending classes in the same order as their child does during the day. Teachers discussed the content of their class with parents, who then had opportunities to ask questions and learn how to contact the teacher.
Members of the National Honor Society volunteered at the event, providing directions to families. It was the first school event of the year at which the organization has volunteered. Students signed up for posts at the main entrance and on each of the three floors.
"I really like that NHS makes a point to give back to the community," senior Christian Mancino said. "A lot of us enjoy helping to organize Open House and making sure that the event runs smoothly."
At the Oakton entrance, volunteers distributed maps and schedules to parents. Other organizations not directly affiliated with Niles West also distributed information as families entered.
The first Bears game — which occurred at the same time as Open House — may have caused lower turnout than usual. Although many families were in attendance, some teachers only hosted a few parents per period.
Despite lower turnout, many students who volunteered and attended felt that the event was a success.
"What I really like about Open House is helping all the lost parents," senior Amani Laliwala said. "I especially love the parents that beeline straight towards a student and ask for help. It makes me really happy."
"Open House is a great way for teachers and parents to get to know each other," senior Agata Soltys said. "Through this meeting, they can work together to provide a better learning environment for the student, catering to his or her needs. In my opinion, this is important and necessary to help a student succeed in school."
Open House is the first opportunity of the year for parents to meet with their student's teachers and other professionals in the building. One-on-one meetings occur at Parent/Teacher Conferences later in the semester.
The event was followed by a 10:10 late start on Friday, Sept. 6.