Top 5 Places to Buy Your Hoco Dress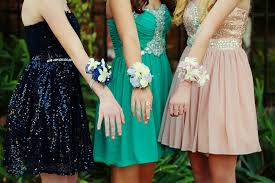 With Homecoming quickly approaching, that means its time for dress shopping. In order to find the perfect dress and not be totally stressed out the week of homecoming, here are some of the top places to find your homecoming dress so that you look gorgeous the night of the dance. By planning in advance and finding the right accessories or shoes to go with your dress you plan to wear to Homecoming, you'll find that you won't have to worry or be anxious during Homecoming itself.
1. Lulus
Lulus is an online store that has thousands of dress options to choose from. Whether you're looking for a bodycon or skater girl look, Lulus has it all. The cheapest dresses sold for Homecoming are around $30 to $45, which is a good deal as the quality of most of these dresses last really long and are very comfortable. If you sign up for their email program, you can even receive 15% off your first item. After buying many dresses from here, I'd have to say that this is one of the most promising online stores for looking for the perfect dress to show off your features for any event, not just Homecoming.
2. Windsor
Windsor is not only an online store but also a clothing store that can be found at most shopping malls. The dresses here for Homecoming come in styles such as bodycon, skater, midi length and even formal. The cheaper prices can range from anywhere between $35 to $60. The dresses here are more on the expensive side, especially if you're planning on wearing the dresses you buy here for only one time, but they're still worth the money. Windsor dresses are cute, classy, and true to size, which also makes them perfect for any event. The store has many options and includes various amounts of sales, so be sure to check out some of their products and find the right dress for you.
3. Pretty Little Thing
Pretty Little Thing is an online store originally from the United Kingdom. The style of dresses ranges from midi, maxi, skater, shift, and bodycon. Most of the dresses run a size short, so I highly recommend using the size chart given as they try their best to convert most of the clothes from UK sizes to US sizes. The prices of the dresses go from $15 to $50. Pretty Little Thing has a ton of sales that go on each week, I recommend signing up for their email program so that you're in the loop for what the upcoming sales are to figure out which one is best for your future purchase. Some of these dresses, however,  result in cheap quality based on what their price is. Read the descriptions and reviews about the dress you plan to buy so you know what to expect when getting it.
4. Tobi
Tobi is a popular online store that many women buy from to get great quality dresses at highly discounted prices. The dresses sold are typically maxi, skater, bodycon and formal dresses. For the Homecoming section, the dresses originally cost about $60 to $100, but with the 50% off discount on all the dresses, they're way cheaper and affordable. There's even a section of Homecoming dresses that are under $50. Tobi's dresses look pretty and come in very high-end quality which makes anyone look good in their dresses.
5. Miss Guided
The final store that has phenomenal homecoming dresses is the online store, Miss Guided. Miss Guided has dresses that are midi, maxi, bodycon, skater, formal, and lace. Although there isn't a Homecoming section, there still is a large variety of dresses to choose from to fit the occasion. The prices go from $30 to $60 and as well as many sales and clearance items for you to decide between. The style and quality of these dresses are cute and unique so that you'll stand out from everyone else at Homecoming.