Magdalena Soldo: A Croatian Sensation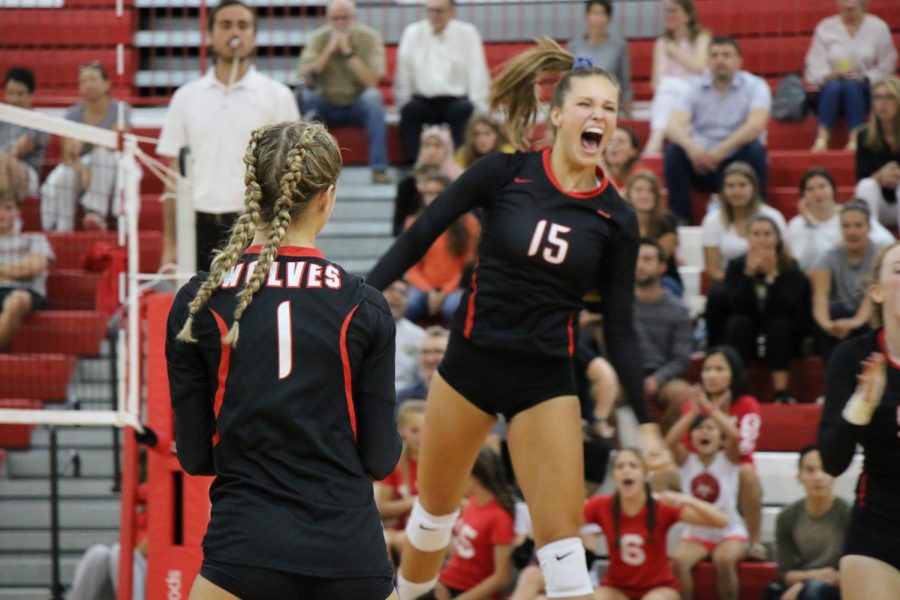 Walking into practice with her hair tied up in a blue scrunchie, she greets her teammates and sets up the volleyball nets in the contest gym. With her six-foot-tall structure, its an easy and quick task for her to complete in just the right amount of time. Once practice starts and the riveting scrimmage begins, junior Magdalena Soldo is set for success.
Soldo began playing volleyball at the age of eleven in around 5th grade. She discovered a love for the sport and continued to play throughout high school. Soldo ended up making the girl's varsity volleyball team her junior year and has brought much success to the team.
"There were a lot of times when I was younger I didn't really know if I could make it big in playing volleyball someday and just wanted to give up, but my friends encouraged me to keep on going and pushed me to play and eventually find the joy that volleyball gives me," Soldo said.
She began her volleyball career playing at Lincoln Hall Middle School along with her first club, Energy Volleyball. Soldo played there for around three years and then branched out to other clubs that would line up with her skills. She currently plays at Division One Volleyball Club, where she continues to excel.
Soldo leaves a positive mark on the team with her teammates and always expresses her competitive goals for the team.
"For this year, one of my main goals is for us to make it to state and place in the top four, but on a more realistic note my goal is for us to pass regionals and even get to super sectionals," Soldo said.
Sophomore and fellow teammate Gianna Pehar takes great appreciation in how passionate Soldo is about volleyball itself and the way she always hypes up her teammates.
"Lena brings the goofiness to the court; she always has some dance move to do or some imitation which makes the whole team laugh. She always brightens up everyone's mood, which is especially helpful in stressful situations that might develop on the court during a game. She's a very honest person who will always be there for you no matter what," Pehar said.
Other than having a deep connection to volleyball and her team, Soldo has always stayed true to her Croatian nationality.
"As many know, I am very involved with my Croatian community. I'm currently a part of a Croatian folklore group called Hrvatska Loza, or Croatian Vines, and am a part of the board for Niles West Croatian Club. After 11 years of no Croatian Club at Niles West, it finally started again, and I became the vice president. Whenever needed, I'm there at the meetings to take over for the president if they can't be there and help organize many of the fundraisers we have year-round," Soldo said.
Sophomore and best friend of Soldo Olivia Vasilj is never taken aback by how much passion Soldo has when it comes to representing her country and taking pride in her nationality.
"I've known Lena ever since preschool. We were both in the same Croatian school and still continue to be in the same folklore group. Lena always takes pride in being in the folklore group as it's become a way for all the Croatians to get together and be social with one another and at the same time be connected to our Croatian heritage," Vasilj said.
Don't miss this Croatian sensation in action and come watch her at the next volleyball game on Tuesday, Sept. 10th at 6:30 pm for the Breast Cancer Awareness game.