UFC 242 Preview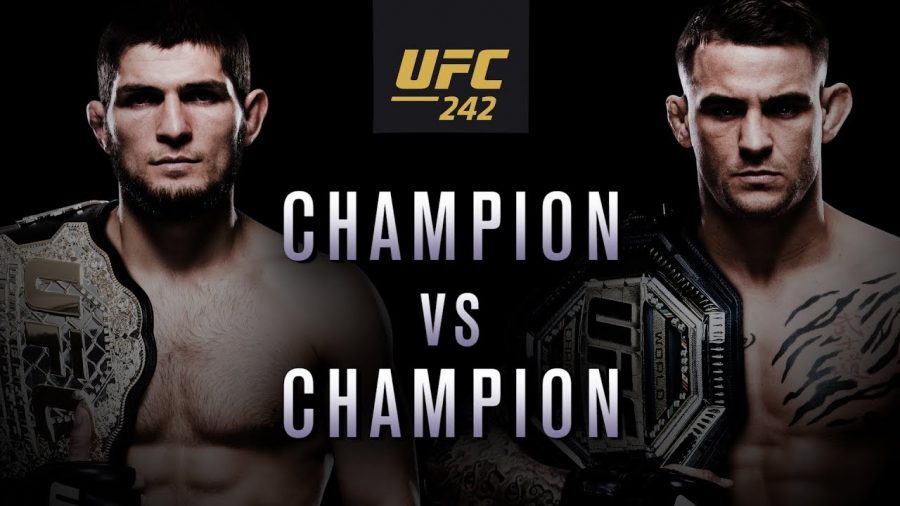 Arguably the two greatest mixed martial artists of this generation will be stepping in the octagon again against each other this Saturday at UFC 242.
The lightweight champion Khabib Nurmagomedov will be fighting the interim lightweight champion, Dustin Poirier, this upcoming Saturday and will settle the dispute on who the real lightweight champion is.
Nurmagomedov's last fight came almost a year ago against Connor Mcgregor and although he ultimately won the fight, some poor actions that came from Khabib after the fight resulted in him being suspended from the UFC and allowing Poirier to win the interim championship back in April.
Coming off of a powerful win against McGregor almost a year ago, may people believe that Khabib will keep his title with ease due to his superb wrestling abilities.
"Khabib is going to win without a doubt in my mind, he is the superior wrestler by far and once he gets Poirier on the ground, the fight will be over," senior Sam Missar said.
The way Khabib fights is like no other fighter in the UFC which is why he is the champion and most people believe that he will have no trouble beating Poirier if he gets him to the ground.
"Khabib's grappling will take Poirier by surprise just like every fighter he has faced and rather than going for heavy strikes, he is going to use the wrestling to his advantage and extend his winning streak," senior Andi Veseli said.
The UFC has become increasingly popular over the last few years because of the new stars taking the stage and both Khabib and Poirier are no exceptions to that.
"I would happily pay $100 to watch this fight Saturday and personally, I think that Dustin Poirier has the higher advantage and a chance to beat Khabib only because he has been suspended for almost a year not allowing him to fight in the cage unlike Dustin," senior Kat Kraljevic said.
Even though Khabib is the more popular fighter going into Saturday night, there is also a reason that Dustin Poirier is the Interim lightweight champion and just as many people think that he will be the first person to give Khabib a loss.
"I know Dustin Poirier is going to win because he has gone through adversity which is something Khabib hasn't and on top of that, he can defiantly outbox him," senior Ben Dym said.
Although it will cost you a hefty $100 to watch UFC 242, the main event alone will be good enough to make it worth the investment. On top of that, there are several other fights throughout the night. This is one of the biggest matches within the last few years and is no doubt something you will hear about on sports channels for the next few weeks.