Noemia Mahmud: Speed Skating to Success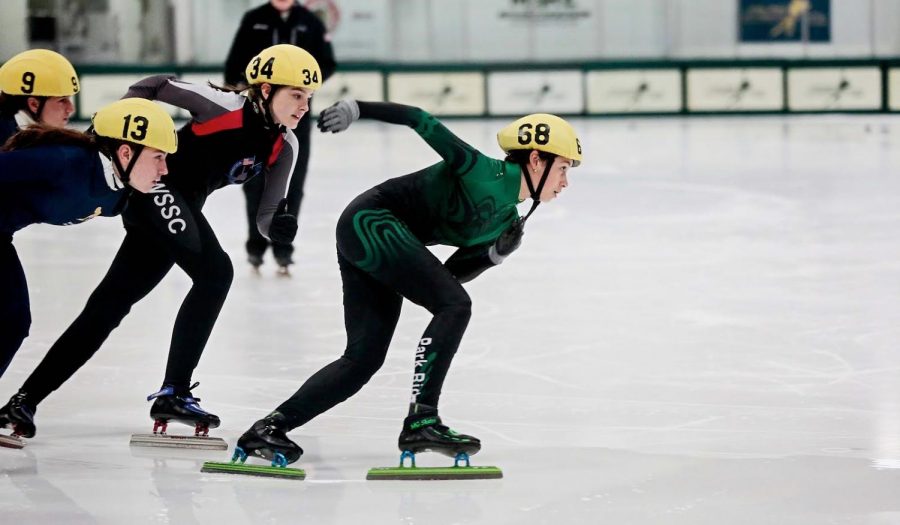 When people first see Noemia Mahmud, they might just see her as another freshman. Not many know that she is not just another nervous new student walking the halls. Outside of Niles West, Mahmud is also a dedicated speed skater.
Mahmud left figure skating for speed skating in sixth grade, because she describes herself as a more athletic person. Reflecting on her thoughts when transitioning,  Mahmud said, "I thought figure skating was too pageant-y for me." Once she made the switch, she knew she had found her passion. Although she was a bit nervous at first, she told herself that being scared was not an option. From there, Mahmud fell in love with the thrill of racing.
To get ready to race, Mahmud puts on her skating suit, specifically tailored to her, as well as her skates and cut-proof gloves. She places herself into the crouched position with her hands ready. Before a race, she's nervous, but she always has something positive to tell herself just before racing off the line.
Mahmud tells herself, "You already won this race. This race is mine. When I get to that finish line, I've won."
During the race, Mahmud's mind is constantly working as there is a lot to think about. A person can't just take off. Instead, technique is essential. Mahmud has to think about how much pressure she is applying into the ice, how low she is to the ground and the placement of her arms. She also has to think about her pacing as it differs depending on the distance of the race. In speed skating, there are three distance: the 500, 1000 and 1500 meter.
After a race, Mahmud is hard on herself. However, she understands that the little races don't matter as much for the larger picture, her lofty goals of pursing speed skating in college and eventually qualifying for the 2026 Olympics. Mahmud also knows that it helps to not only have the Olympics in mind.
"I don't start by thinking how am I gonna get here to the Olympics, but there's smaller goals."
She has already made substantial progress by being the fastest skater in her club and placing 14th in her division at nationals. Of course, she did not make it there without her dedication, perseverance through countless injuries and her four-time Olympic coach, Nancy Swiller Peltz, guiding her every step of the way.
At first, Mahmud was intimidated by having Peltz coach her because of her impressive career.
"At first, when she came last season, it was kinda scary. I was like you have to do your best in front of her at all times. Over time, you realize this is really cool. I have an opportunity here,"  Mahmud said.
Mahmud not only trains twice a week in the rink, doing 45 minutes of conditioning and 1.5 hours of skating but also completes daily, hour-long separate workouts at home. She'll do leg and core workouts that are given from her coach while also biking and completing her own core workouts. In addition to this, Mahmud will partake in "dry land," practicing her crouched stance in front of a mirror.
With this much training, and the dangerous nature of the sport, injuries are inevitable, but Mahmud doesn't let them bring her down. In her three years of speed skating, she has experienced many cuts, scrapes, and bruises as well as complications with her knees due to growing pains. Mahmud simply slaps on her special knee bands and continues to practice, even if that means almost getting a concussion from losing balance on wet ice.
"It makes me have to skate at my own pace instead of catching up with others for a while," Mahmud said.
Mahmud does not mind these challenges, and her coach sees this as well through Mahmud's hard work and mental focus.
"Speed skating is a sport where the Olympics is the ultimate goal. It takes a lot of mental focus to make your body skate the positions necessary to be great. Many people are not patient enough to pay the price of that mental focus. Noemia loves this sport, wants it really bad, and understands that mental focus and is willing to pay that price," Peltz said.
Of course, balancing school with such a time-consuming sport could be challenging. Mahmud does not yet know how she will balance everything, because she has just started the school year. She plans to use every spare minute she has to work on her school work for her to maintain good grades while also remaining dedicated to the team. Luckily, Mahmud has the support of her friends to not only help her with school but to also encourage her speed skating.
"I think she's extremely talented at it and she deserves to go to championships" freshman Kashish Ali said.
Mahmud will continue her speed skating career with the undying love and support from her friends and family.