Blind Faith Cafe: A Hidden Vegetarian Gem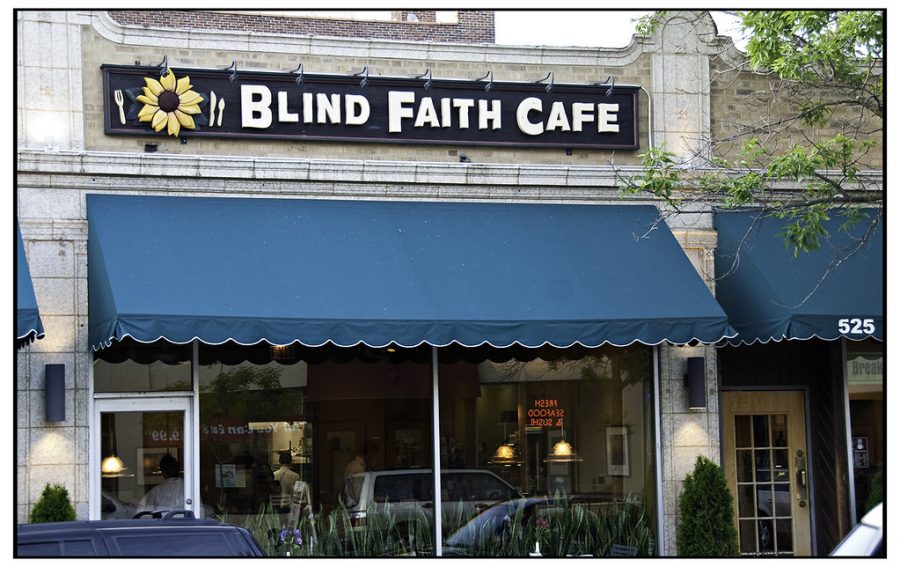 With the lifestyle of vegetarian and veganism on the rise, there are more and more restaurants that are accommodating and meat-free. However, some of these meat-free restaurants are better than others as many have little options or the meat substitutes are sub-par. Having Sunday brunch, we found the solution to our search for a vegetarian/vegan establishment: Blind Faith Cafe.
Blind Faith Cafe is located on Dempster Street in Evanston, nearby Downtown Evanston and Northwestern University, making it the perfect local restaurant.
Walking into Blind Faith Cafe, customers automatically get a vibe of their cozy and warm layout. The smell of fresh pancakes and entrees are mouth-watering, and they are able to make a full person hungry. Because of the wonderful weather, our city of Chicago decided to gift us on a Sunday afternoon; we decided to get settled on one of their tables outside.
For starters, we decided to order potstickers, a hazelnut latte, and an iced mango green tea. The potstickers were perfectly steamed as they weren't too soggy. The vegetable filling was delicious, especially with their in house orange-shoyu sauce. The portion size of five was perfect for two because we finished and were able to enjoy our entree still. As for the drinks, the latte tasted milkier than a latte normally would, but it was still drinkable. The iced mango green tea, on the other hand, was like a Starbucks refresher but better. It was fruity and flavorful— the perfect drink for a Sunday brunch in the fall. It even came with an environmental-friendly paper straw, straying away from the basic VSCO girl metal straws.
We had some difficulty deciding our entrees with their large variety of choices. They had all kinds of food from cuisines ranging from Mediterranean to Asian to American, which gave us a numerous amount of tastes and flavors to choose from.
However, what we decided to order did not disappoint us. The apple cinnamon pancakes were delicate and fluffy, and with the raisins, whipped cream and maple syrup, it gave off beautiful fall vibes for the spooky season. They were a good portion size of three pancakes, gorgeously displayed on the plate. The Thai peanut noodles, which were vegan and gluten-free, were also completely fresh and flavorful, topped with a variety of steamed vegetables, peanuts, and tofu. However, the portion size of the noodles was unbelievably large and was definitely not meant for one person, which was not specified on the menu.
For dessert, we ordered a fruit cobbler, which came in a cherry flavor. The presentation was simple yet cute, while the cherries were fresh, and the topping was crispy. Although the crumble could have been a bit warmer, it was delicious overall, and it was a nice ending to our meal.
Overall, Blind Faith Cafe is the perfect place to brunch with both family and friends. With their large variety of options, you will definitely find the food you are craving that day. Their service is excellent– your order will be made perfectly, and you won't be kept waiting for long. This is the perfect place for vegetarians and vegans who have not been able to find meat-free restaurants of their preference. The only downside would be that their items are a bit pricey: the pancakes were around $14, and the noodles were around $16, and with the addition of the starters, drinks, and dessert, we ended up with a grand total of $60, which is expensive for two girls doing brunch. However, if you are looking to treat yourself or go a little extra to eat-out, Blind Faith Cafe is an underrated place you should check out.