2019 Girls Golf Season Off to an Exciting Start
Beginning their practices on August 9th, the girls' golf team have been swinging none stop to better their technique. With a recent loss against Evanston Township this past Monday, the girls have not been blind to their mistakes. They know what needs to be done and are taking the time this season to further better themselves and the team as a whole.
Senior Iza Batorwicz knows a thing or two about golf as this is her third year playing for Niles West. With this being her last season, Batorwiczs has high hopes to make it her best season yet.
"I chose to do golf because after I quit swim, I played a lot of recreational golf over the summer and genuinely began to like the sport a lot. Now that I have been on the team for the past three years, I understand all the terminology and the games run much smoother now," Batorwicz said, " Since we don't have such a large team, our bond and connection with one another individually are so strong, just going to practice is such a fun time with the other girls."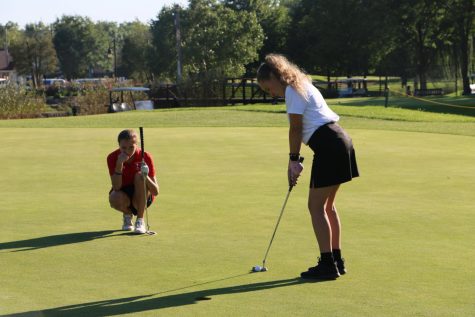 In comparison to Batorwicz, freshman Naomi Catalla has just begun her athletic career with Niles West girls golf, but that doesn't mean she is unfamiliar with how things run. Being the younger sister of former varsity athlete Mia Catalla, she knew that golf was a must in high school. Although Catalla would be juggling two fall sports, she knew that this is what she wanted to do.
"Since I am on varsity poms and varsity golf, it has become a little bit stressful to manage the both just because the two are both fall sports, so the games and or practices do conflict with one another often. Although it can be a lot sometimes, I wouldn't trade in the two for any other sports, I love what I do and will continue to do the two for the rest of my high school years," Catalla said.
As for Hita Bharward, this may be her second year of high school but her first year on golf, and she loves it.
"I did volleyball my freshman year, but I decided to switch over to golf this year because it is a very fun yet relaxed sport. I play for both teams, but recently I have been playing with the varsity girls, and it has been such an amazing experience to get to learn from the upperclassmen but also have a good time," Bharwad said.
The next time you can catch the girls swinging is on Wednesday the 18th, at the Wilmette golf course at 4:30 pm.