Homecoming Spirit Week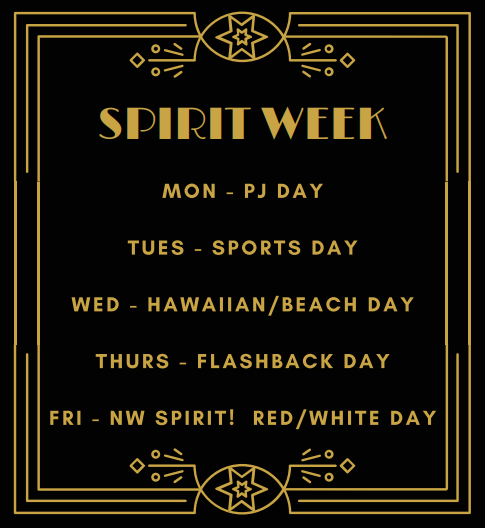 Homecoming is just around the corner, which means spirit week is too.
Homecoming sponsor Tamar Boghossian is really excited for the students to see the decorations for the Great Gatsby theme. "We [homecoming comittee] had such a blast coming up with ideas and putting it all together," Boghossian said.
This year, with The Great Gatsby homecoming theme, spirit week will include:
Monday, September 23: Pajama day, with free treats during lunches
Tuesday, September 24: Sports Day, with the Powder Puff football game at 3:30 pm
Wednesday, September 25: Hawaiian Day, with the pie-eating contest during lunches
Thursday, September 26: Flashback Day, with a photo booth in the cafe
Friday, September 27: Niles West spirit (red/white day), with the pep assembly at 12 pm
There is a class war during spirit week, counting how many students wear their spirit wear.  Students who wear their spirit gear or attend spirit week events such as the Powder Puff game can check in with either Ms. B in the literacy center or Katie Odell in student activities. Students will give their ID number to them, and they will enter the information into an online program to count the total. The point board is located in the main hallway near the cafe, and it counts how many students per graduating class dress up or participate for the spirit day.
Spirit week will end with the homecoming assembly on Friday at 12 pm as well as the homecoming football game that night at 7 pm. All of this spirit is of course in preparation for the big night: homecoming. Homecoming will be on that Saturday, the 28th of September at 7 pm.