Chicago Bears Week 3 Update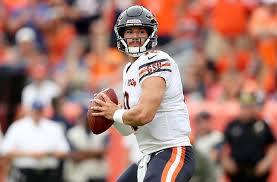 It's Week 3 in the NFL, and the Chicago Bears are 1-1 looking to get their first winning record of the season. Currently, the Bears are last in the division due to their week 1 loss to the Green Bay Packers. "To be honest, I'm not really worried about the loss to Green Bay," junior Bryan Rodriguez said. "Yeah it's tough losing the first game of the season, but we have to move forward and forget about the bad".
Some bears fans think the defense isn't living up to the expectation. "We had the best defense in the league last year, and look where that got us," junior  Paul Karabatsos said. "We're in a tough spot this year, the Packers, Vikings, and even the Lions look decent." Not only do they look good, but every team in the NFC North won their game in Week 3.
Now it's the Bears turn to show off on Monday Night Football against the Washington Redskins. The Redskins have not been doing so hot either, sitting at a record of 0-2. They lost to arguably some of the best teams in the NFL, being the Dallas Cowboys and Philadelphia Eagles. Regardless of their two losses, quarterback Case Keenum has been playing his tail off, completing 70 percent of his throws in his first two games and accumulating 5 total touchdown passes.
Bear's quarterback Mitch Trubisky hasn't been playing his best football lately. His completion rating is 58.3 % with only 348 passing yards just in his first two games. "The number that's really hard to look at is that he has 0 touchdown passes so far," junior Darius Tap said. "He almost lost us the game against the Broncos, and I know for a fact we will be playing better teams than the Broncos".
Tap is not wrong. The Bears have a tough road ahead of them looking at the New Orleans Saints, Los Angeles Chargers, Los Angeles Rams, Dallas Cowboys,  Kansas City Chiefs, and a wild card rematch with the Philadelphia Eagles. If they want to beat the Redskins, they need to play their best football on defense, stopping running-back Adrian Peterson upfront with the powerhouse defensive line they have. Trubisky not only needs to throw the ball efficiently, but he needs to lead the offense to at least 20 points, which they haven't done yet this season.
"I don't wanna jinx anything, but I'm pretty sure that we can pull out this win," junior Nick Mehmeti said. The Bears have a 70 percent chance of getting this win, but can they do it? We'll find out today 7:15 on ESPN