Joe Donuts: A Little Hidden Addition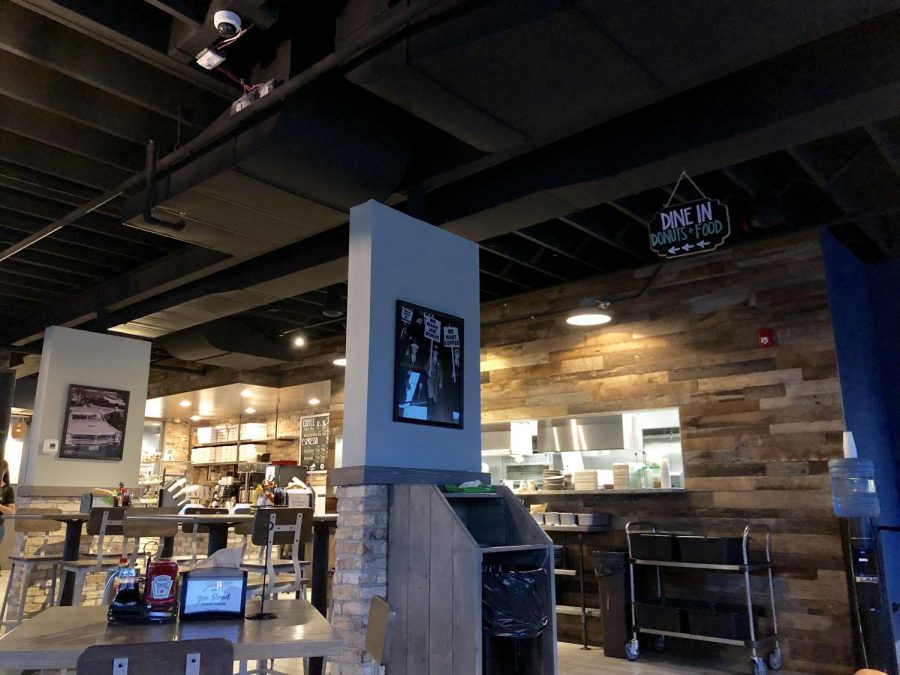 Joe Donuts is a new restaurant located on Milwaukee Ave. With its main concept being donuts, obviously, they have another location in Glenview, which only sells donuts and coffee. With that location being open since 2016, the donuts have been around for a while. At the new location in Niles, they are serving breakfast/brunch foods along with the food item they know best: donuts.
The first thing I would like to talk about is the hours. The hours were a little odd, on Mondays, they were closed, and from Tuesday to Sunday, they were open from 6 am up until 3 pm. On the other hand, the hours somewhat do make sense. Joe Donuts is simply just a quick place to grab food, but the atmosphere does not give off a breakfast restaurant type of vibe. I went on Wednesday morning, at 7 am to be exact. When my mother and I first walked in, we were pleased to see it wasn't busy whatsoever. There were maybe three or four tables occupied, not including the booth my mother and I were seated at. We were also very pleased to see that the restaurant was squeaky clean. With it being brand new, you would expect nothing less.
After looking at the menu for a couple of minutes, my mom went up to the cashier to order our food.  The lady who took our order was very friendly, which I took very well, considering it was seven in the morning. After she gave my mother her doughnut and coffee in a disposable cup, we went back to our booth. I kid you not, just five minutes after sitting back down the food made its way to the table.
I ordered the "Burnt Cheese" skillet, which sounds a little gross. But did it taste gross? No. It was pretty simple and delightful, in my opinion. On top of a bed of cubed potatoes were scrambled eggs, and on top of the eggs was a layer of burnt cheese. It wasn't even burnt; it was like a light gold/caramel color.
The flavor, however, wasn't my favorite. It was nothing special, but it also wasn't the worst thing to put
into your mouth. It tasted a little bland, so I had to add a lot of Tobasco just because I felt it lacked in the flavor department. I also had to pick off some bits of scrambled egg with every bite that I took. The egg was somewhat overpowering, but if you enjoy a lot of eggs in your skillet, then this item is for you. On the other hand, it was nine dollars, so you get your moneys worth, portion-wise.
My mom had a hot coffee with a pecan sticky bun fritter. When I went to the location in Glenview, I had a nitro cold brew and a s'mores doughnut. I didn't care for the cold brew. I thought it would taste like a Starbucks nitro cold brew with sweet cream, but it certainly did not. I'm also not the biggest fan of coffee, but if you do like strong coffee, I'm sure you would be a fan of this drink. The donut was delicious and kept me going throughout the morning. On their website, they said they make the pastries in tiny batches and use fresh ingredients, which shows up in the taste. My mom enjoyed her combo of the two.
Overall, I would have to give this place a solid eight out of ten. They had very friendly service at both locations, and tasteful food at the new joint in Niles. I would definitely recommend stopping by for a quick bite or if you have a sweet tooth. Going forward, I'll stick to donuts. They have more flavors than you could even imagine.