Kristianna Bliznakov: TikTok Famous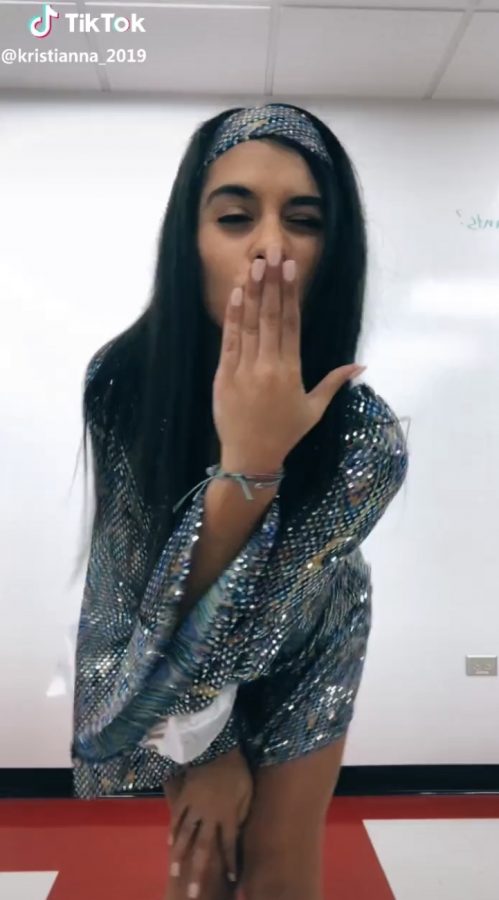 TikTok is an app where people can be as creative as they want and post videos that express who they are as a person; TikTok is Musical.ly's predecessor. Musical.ly was bought in November of 2017. Students at Niles West have now become addicted to the app, along with its one billion users. Some of these billion users attend Niles West and are TikTok famous. One of them is senior Kristianna Bliznakov.
Bliznakov has recently blown up on TikTok, with 11.2k followers and growing. Her TikTok account has skyrocketed, getting over 100 thousand likes on a single post and many more. The video that made her TikTok famous is her dancing to Micheal Jackson PYT, from Homecoming spirit week.
"I was originally just making videos for fun and going along with what was trending, and then one day I made a Tik Tok in my disco outfit for the homecoming spirit week, and it kinda blew up, and from there it has gone uphill," Bliznakov said.
Other than making TikTok videos, Bliznakov is involved with many clubs and sports at Niles West. Bliznakov is on the orchesis dance team, and outside of school, she's a Polynesian dancer. She's also apart of the sports medicine club and helps assist the athletic trainers at sports events. From group numbers to TikTok dances, Bliznakov does it all.
A key reason why she continues to do TikTok is because of the joy it brings her throughout each day of her life. "I like Tik Tok because I love to dance and learn new moves, it keeps me going and the memes people create, make me laugh all the time," Bliznakov said.
Unlike other TikTok users, Bliznakov doesn't have any specific goal with the app and simply likes to have fun. She doesn't purposely intend to get even more famous than she is currently.
"I would be happy with whatever happens, whether it'd be gaining more TikTok followers or just stay where I'm at," Bliznakov said.
Her account has 273.5K likes in total, which is impressive and outstanding for having the app. "I didn't intentionally try to become TikTok famous, but it just happened," Bliznakov said.
A way that many people end up becoming famous on the app is through the "For You" page on the home page. When people post their videos, in the caption, they typically put #foryoupage, #fyp, and #foryou. This is so that they have a higher chance of becoming famous and noticed by other people on the app. When on the "For You" page, you have a better opportunity for other people on the app to see, like, and share it to give you more views.
On TikTok, for some viewers, the main people that get lots of likes and views on each of their posts are the people that show off their bodies.
"Cute white boys are mainly the people that are popular on Tik Tok because they get a lot of attention from girls because they show off their body," sophomore Marian Essa said.
People spend hours on TikTok just scrolling through who they see on the "For You" page, and to laugh or distract their mind from other things that are going on in their life.
"I think that people want to be TikTok famous because sometimes they get validation that they're funny, but they enjoy making the videos that make them and other people laugh," sophomore Ibrahem Abdulla said.
If you don't have the TikTok app, what are you waiting for? This app can be very addicting, but it's a fun social media platform that encourages people to be creative and make others laugh. Hopefully, the next time you're scrolling through the "For You" page, you'll see Bliznakov dancing her heart out to a song trending on the app.