Scholastic Bowl, Last Year's CSL Conference Champion, Looks to Further Success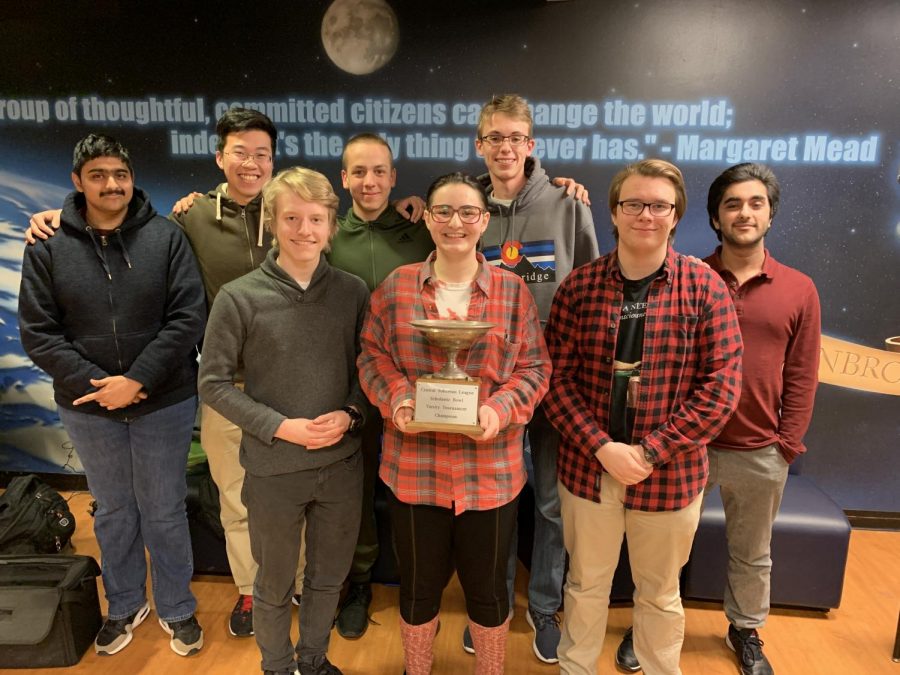 Studying and fun are strange bedfellows, but Scholastic Bowl ties both together through the medium of trivia. Every Monday, room 3130 is abuzz with two teams competing for this week's prize — bragging rights. The team splits into two squads for a scrimmage, even completing the setup with real buzzers and score tallies. It's just as competitive as a sports game; some members may say more so.
Scholastic Bowl can best be described as the high school version of Jeopardy. Members field questions about literature, math, science, social studies, fine arts, and more, making the club an intellectually rigorous pursuit. Students usually specialize in one topic due to the breadth of knowledge every area spans.
"The thing about Scholastic Bowl is there's just so much variety," senior Daniel Cudzich said. "Even if you don't know literature or aren't a history buff, you can still contribute so much in terms of science and math knowledge."
About once a month, Scholastic Bowl competes at a regional meet against other nearby high schools. At each competition, two other high schools plus Niles West compete against each other. Maine West will host the next meet on Oct. 21.
Upperclassmen—juniors and seniors—participate in the varsity division, while freshmen and sophomores participate in junior varsity. Varsity questions are significantly more difficult and often require more rigorous study.
"What I really enjoy about Scholastic Bowl is the wide variety of questions that test your knowledge," junior Kevin Repta said. "I personally enjoy social studies, history, geography, and math, and it's fun to be challenged in your favorite subjects."
Even though individual members answer questions, the team atmosphere is still palpable. Working with one's group is especially important on bonus questions when students can consult with other teammates. Students also work together to share Quizlets or study for an upcoming meet.
"I really like how, although Scholastic Bowl is based on individual knowledge, we still have to work as a team to do well," senior Zach Werth said. "It really contributes to a great team environment."
Last year, the varsity team won the Central Suburban League Conference Championship, outdoing teams across the region in every category. Although the seniors from last year have graduated, the club is ambitious, looking to future successes with new motivated members.