West's Weight Room Remains Closed After School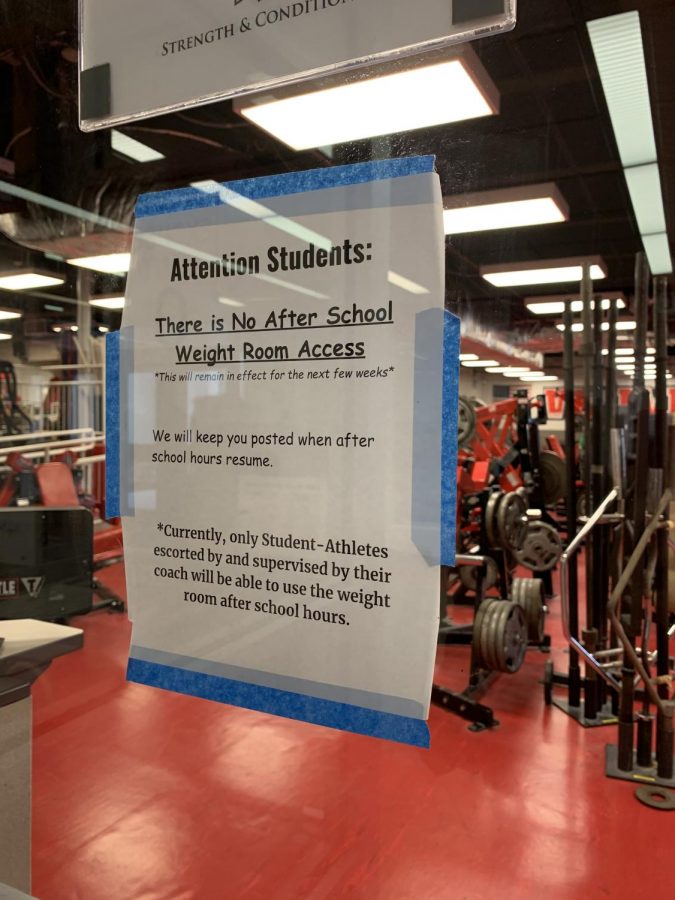 Historically, the weight room has been open for student use after school. But this year, students seeking an after school work out were met with a sign: "There is no after school weight room access. This will remain in effect for the next few weeks." Fast forward to October. The weight room remains closed, leaving athletes and non-athletes alike without a place to freely work out after school.
Physical welfare director Omar Alebiosu stated that the administration has been in the process of hiring a new strength and conditioning coordinator.
"It's been closed because we don't have that position [filled] yet," Alebiosu said.
The strength and conditioning coordinator must be someone who is P.E. certified, knowledgeable of workouts, content, and in-season and out-of-season protocol. Alebiosu said that they are getting closer to completing the hiring process.
"We've vetted out applicants; we've gone through the process. We're just wrapping things up on our end, doing our due diligence on background checks, and making sure we're following through with the protocols," Alebiosu explained. "We're in the last leg of things."
Student-athletes like seniors Justin Jayaraj and Kadin Camburn used the weight room daily after school.
"I really enjoyed the weight room because I was surrounded by other people like me who were trying to do better by working out," Jayaraj said. For him, the weight room was an outlet to relieve stress and clear his mind, along with a way to improve his athletic performance.
Camburn also used the weight room every day after school, taking advantage of the freedom that came with it. "I enjoyed being able to do what I wanted or felt I needed to work on, unlike Varsity P.E. or strength and conditioning where we are required to do a specific workout," Camburn said, noting irritation at the closure and the fact that students haven't been informed about when it will re-open.
Student-athlete and senior Kyle Moy believes the weight room's closure has been unfair to the students.
"It's sad not to be using our great facilities and equipment we have," Moy stated.
Alebiosu says he understands the impact the weight room's limited hours has on the students.
"Our intention is not to disrupt anyone's workouts or personal gains. We understand that kids have been very patient," Alebiosu stated.
Despite the weight room being closed after school, Alebiosu said students still have options. "If a kid really wanted to take advantage of a morning exercise and a lift, they could come in," he said. Students can also work out during their regularly scheduled P.E. classes.
Alebiosu said that there are a lot of staff members, including himself, who would be willing to work with students in the weight room before school. However, not many students have expressed the need for wanting to come in and workout early in the morning.
"It's been more of after school, and I get that, they've got busy days and a lot going on, but it's at least been given as an option to kids," Alebiosu stated.
Moy used the weight room every day to increase his strength and agility, and he cites the help he received from Fernando Perez. Perez did not return for the new academic year, leaving after school supervision contingent on the new hire.
Pole vaulter Hana Choi also cites positive experiences with after school accessibility.
"I came in not knowing anything about working out. However, Perez showed me that regardless of where you start, everyone can get stronger and work hard to achieve your goals. He genuinely cared about the success of his athletes in and out of school," Choi said.
Like other students, Choi believes that it is a disservice to close off the facility. "We have one of the best weight rooms, and to shut it down after school is a huge detriment to other athletes," Choi continued.
Choi stated that even if students were able to go to a local gym, they would not have the privilege of having a coach help them with their workouts and show them the difference between the right and wrong techniques, which is what the weight room was able to do for students at Niles West.
Student-athletes are not the only ones who are upset about the weight room's continuous closure. The weight room was also used by students like Ryan Volpe, who did not participate in any sports at West.
Volpe started using the weight room during the previous school year and found that going there after school gave him time to focus at the moment and not worry about any future events. As a transgender male, without any access to medical means of transitioning, Volpe stated that working out in the weight room after school helped him 'feel' more masculine.
"It was a confidence boost," Volpe said. "It really helped with my self-esteem and how I viewed myself as a trans man. It was a great way for me to relieve my anxiety in a productive way and feel better about myself."
Volpe used the weight room around three to five days a week for about an hour or longer. "I could go in, do pretty much everything I wanted to, and then go. It was nice because I could focus 100% on the workout and not have to navigate around what other people were doing."
When he realized that the weight room was closed after school after coming back from summer break, Volpe, like many students and athletes, was disappointed.
"Even though I live close to a few smaller gyms, their monthly fee is typically a couple of hundred dollars, meaning that it is not an option for me to just go to another gym outside of school," Volpe stated.
Students should expect to hear news about the weight room's re-opening by the end of October.