Mr. Monkey, Providing Comfort to All Students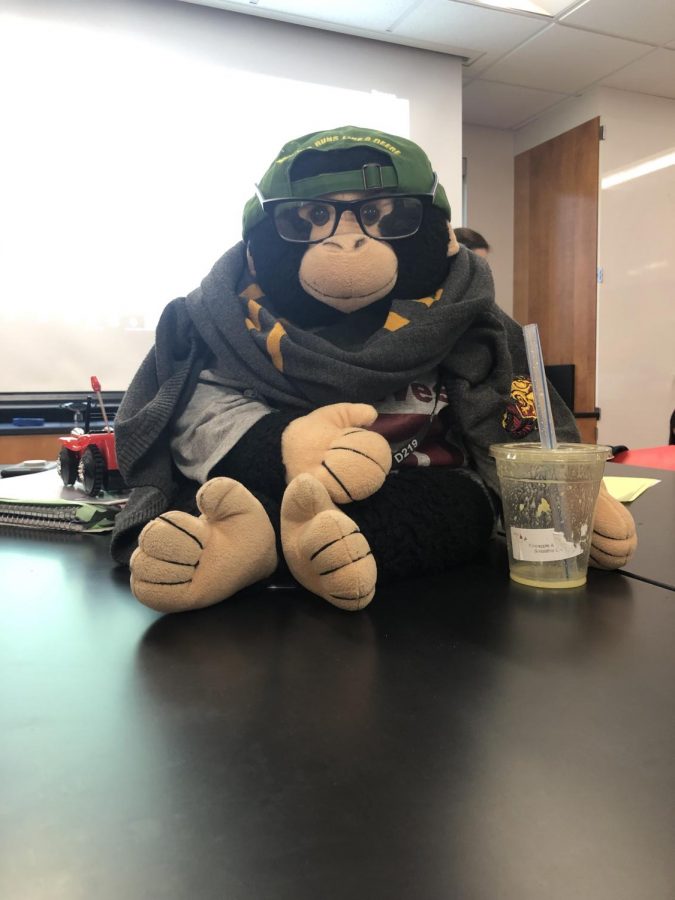 It's no secret that AP classes are hard. Students often feel pressured into taking these stress-inducing classes and are left with weak stress coping mechanisms. This is where comfort animals like Mr. Monkey come into the equation. Mr. Monkey is the comfort animal of the AP Physics 1 classes, and he is an integral part of the classroom dynamic.
AP Physics 1 teacher, John Metzler, expressed the importance of Mr. Monkey and explained what he brings into his classroom.
"First and foremost, Mr. Monkey provides the AP students with support and encouragement. Just being a constant within the class helps students recognize that Mr. Monkey will always be there for them, no matter how difficult the course may become or how stressful junior year is," Metzler said. "Not only is Mr. Monkey a comfort animal, but Mr. Monkey also serves as our class mascot. He's already been invited to Homecoming, a home volleyball game, and has been on numerous weekend adventures. Throughout the year, Mr. Monkey will be able to showcase all of the wonderful experiences students as Niles West and students in AP Physics 1 encounter."
Mr. Monkey is obviously an important part of the AP Physics 1 classroom. Many students turn to him for comfort during bad days and times when they need a shoulder to lean on. Having an outlet where students can reduce their stress levels in even the slightest way is incredibly important. Education is a stressor for many students, and Mr. Monkey makes managing this stress an easier task for students across the board.
AP Physics 1 student and junior Maryam Khatoon finds herself turning to this esteemed staff member multiple times throughout the week.
"Mr. Monkey is just a cool guy to have in class. Physics is hard, and sometimes I just need to relax, and a good hug from Mr. Monkey makes me feel better instantly. He does a good job of making my classmates and I less stressed," Khatoon said.
Khatoon is only one example of students who feel the impact of Mr. Monkey. He truly brings up the overall classroom morale, and he creates an environment where students feel comfortable to work and learn. Mr. Monkey is already an essential figure in the academic lives of many students, and he proves to be an outstanding staff member.
Junior Ela Kinaci is also in AP Physics, and she sees Mr. Monkey as an essential part of her classroom and learning experience.
"I personally haven't used Mr. Monkey as a comfort animal yet, but sometimes while in class, I'll look over and see him chilling with some sunglasses on, and it makes me laugh. I'll already be having a good day at school, and then I walk into physics 9th period, and seeing Mr. Monkey makes my day better than it already was," Kinaci said.
A mutual consensus amongst AP Physics 1 students is that Mr. Monkey makes their days and classroom experience better, and without him, school wouldn't be as enjoyable. Mr. Monkey will continue to be a prominent member of the Niles West community, and if you ever need a hug or laugh, visit Mr. Monkey in room 3430.