Emily Kim: Super Sister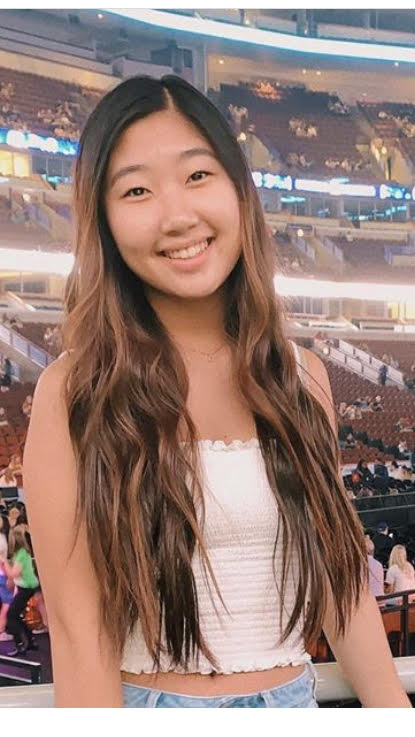 Sophomore Emily Kim sits at her desk in her room, twirling her long brown hair. She hears her siblings watching TV in the other room, but she's focusing on writing her AP Psychology notes in calligraphy. Kim finally finishes, and starts planning her week, which is filled with clubs like Relay for Life, Student Cabinet, and tutoring students in the Lit Center.
Emily Kim is taking almost all honors classes, and when she gets home on weekdays she just wants all the weight lifted off her shoulders by finishing her homework and feeling like she had a productive day. Even on the weekend, the first thing she does on Saturday morning is finish her homework to make sure she starts off her day right.
Kim enjoys spending time with her family especially her little cousins. She loves telling them about how her week went and she encourages them to tell her about their week too. Kim and her cousins are so close they're practically siblings, "I see my cousins almost every weekend and they love to play around with my phone and record them selves talking," Kim said.
Kim has a younger sister that's a freshman named Kaylie Kim. Emily Kim enjoys talking to her about things going on in school and she loves that she's finally able understand what she's talking about since they go to the same school.
"It's nice to be in the same building again as one of my siblings cause we've always been together for 9 years and I missed it last year," Emily Kim said.
Since her sister is a freshman, during the first week of school she would show Kaylie Kim where each of her classes were located, and she would walk her through her whole schedule so she wouldn't be as lost. Although the numerous questions that her sister kept on asking might've gotten on her nerves, it was alright because Emily Kim knew that was her last year.
Emily Kim gave her sister some helpful advice that she wished she'd known before she started her freshman year, "I told her to not be too scared because she was really nervous . I told her that I had nervous breakdowns before freshman year started, and they were about nothing because high school wasn't as bad as I thought it would be," Emily Kim said. 
Kaylie Kim appreciates having an older sister that's been through it and can guide her though her freshman year. Kaylie Kim gets a lot of help from her sister, like when she has an assessment or difficult homework, and her sister is always there help her out.
"She gives me great pointers about homework and studying," Kaylie Kim said. 
You don't have to be Emily's sister to see the caring side of her. Her friends describe her in the same positive ways.
"Something that I appreciate about Emily is that she's just really caring and an outgoing person. There is so much I can relate to when talking with her, she is the kind of person that will make your day so much brighter," sophomore Kristin Tran said. 
Emily's caring personality can be easily seen in the hallways or while she's tutoring. She puts effort into everything she does, and it's very noticeable. Make sure to say hi if you see her in the hallway – you might make a new friend.