'Brace' Yourself for Ines Rahmani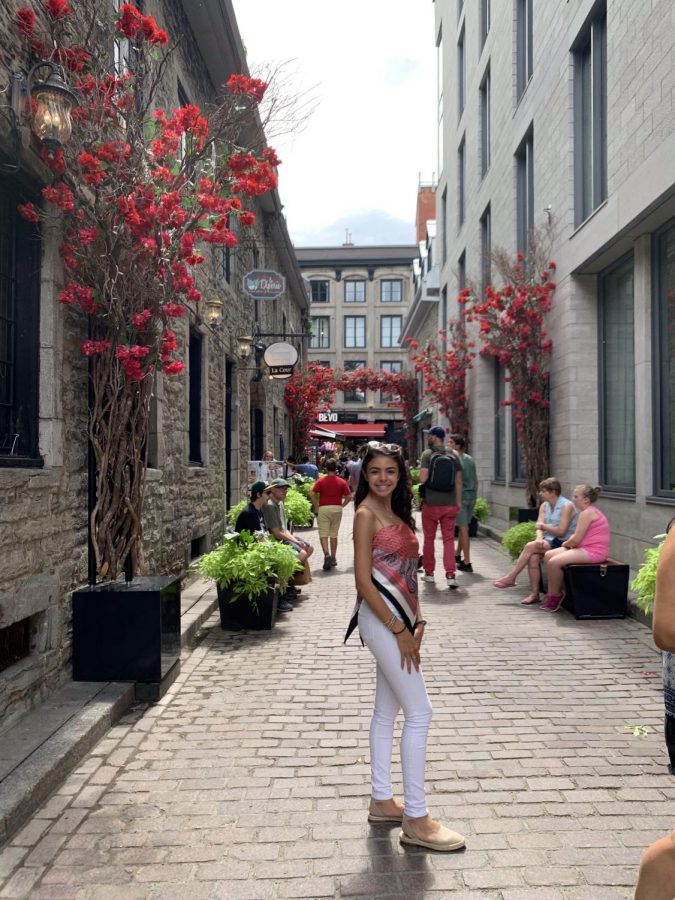 As she walks through the halls, senior Ines Rahmani is recognized by many for her various accomplishments in school, including, but not limited to, being co-president of UNICEF club, a member of French club, a board member of Muslim Student Association, the Board of Education representative, vice president of student government, a lit center tutor, peer leader, and freshman mentor, a SOAR leader, and a varsity tennis player. While she is known for her many in-school achievements, what most people don't know is outside of school, Rahmani is actively pursuing her goal to become an orthodontist.
On the weekends, specifically, every second and fourth Saturday of the month, Rahmani assists and shadows Doctor of Dental Surgery and Master of Surgery Noor Obaisi at Venus De Mio Orthodontics in Chicago from 9 am to 5 pm.
"I check in with Dr. Obaisi at 8 am to see what she needs. I start preparing the rooms for the patients to come in by preparing the seats and gathering and sterilizing all the equipment," Rahmani stated.
Rahmani sits right beside Obaisi, observing her and carefully watching her every move. She observes the patients coming in, the types of cases they have, and the procedure they go through.
Obaisi also gives Rahmani the opportunity to practice on patients by taking off rubber bands, changing their brackets, taking molds, and placing retainers.
"I've learned how to take X-rays and determine the different types of skeletal muscles in the mouth, along with transferring dental records to the state to see if their insurance covers their needs," Rahmani stated.
Rahmani believes her continued experience has taught her to be more meticulous and patient, along with learning how to work with different types of people both physically and emotionally. "I make sure that the patient has a maximum level of comfort so they don't feel scared to come back, along with making sure I don't overstep my boundaries."
"At the end of the day, it's really all focused on their health and well-being," Rahmani said.
Rahmani's interest in dentistry started with her own difficult journey with braces for five years. With her braces now off, Rahmani states that she is able to enjoy her smile and she wants to be able to do the same for other patients.
"Going through the whole journey of seeing me transition and developing not only through my teeth, but also as a person was a beautiful thing for me, and that's what inspired me to go into dentistry," Rahmani stated. At the clinic, she enjoys watching the patients grow as individuals with their personalities as their teeth shift.
Rahmani's mother had always known about her desire to become a dentist, so she took advantage of a friend at a dental practice to allow her to shadow Obaisi's practice. Rahmani believes she is fortunate to have been paired with an orthodontist who's not only a woman but also a Muslim.
"I can really relate to her on a personal level, and to see a woman like her in a field that's so competitive is really amazing," Rahmani said.
Chemistry teacher Brittany Wu has been involved with Rahmani's journey to becoming a dentist.
"Ines is an amazing individual whose drive and passion has always impressed me She actively seeks out opportunities, such as working in an orthodontist office, in order to better understand Orthodontics. Ines has a very bright future ahead of her and I am confident she will achieve all the career goals she sets out for herself," Wu said.
College applications are every senior's prime concern, and for Rahmani, it is no different. While she has a bit of difficulty managing her busy schedule, Rahmani has her priorities straight and understands that managing her time wisely is the key to getting everything done.
Since she wants to stay local, Rahmani is looking into UIC's dental school, along with their GPPA (Guaranteed Professional Program Admissions), which allows a limited number of incoming freshmen to be admitted to the university with guaranteed admission to a graduate or professional degree program.
Despite everything on her mind with her packed schedule, Rahmani is a kind student who makes time for everyone in her life.
Senior Lynn Nguyen has no doubt that Ines will achieve her goals.
"Ines is one of the most driven people I've ever met. When she sets out to do something, she does it. Even if it seems as if it's too far to reach, she'll still find her way there," Nguyen said.
"I have never seen Ines be unwelcoming. She is very busy and always has a lot going on but she always seems to have time to listen to her friends," senior Ruby Martinez.
When you see her in the halls, make sure to flash Rahmani your winning smile. But make sure you don't have food in your teeth.