What's Up, November?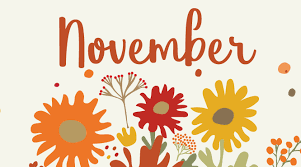 Hang on for a minute...we're trying to find some more stories you might like.
With the month of October over, it's finally the time to start getting into the Christmas spirit early and celebrate a time of thanks and appreciation with Thanksgiving. Since there will be a few days off of school because of this holiday, here are some activities and events you can attend in order to keep the fall season alive.
Niles West:
1-2: Coffeehouse Cabaret 7:30 pm
6: National Honor Society Induction Ceremony 6:30 pm
7: 9:40 am Late Start Day
11: Veterans Day Flag Pole Ceremony 7:30 am
12: Pen Pals Art Show 6 pm
27-29: No School Thanksgiving Break
Chicago:
3: Hot Chocolate 5k/15k Walk in Grant Park
6-22: Chicago Latino Music Festival
9-24: Polish Film Festival in America
14: Opening of Christmas Around the World and Holidays of Light at the Museum of Science and Industry
15: Opening of the Christkindlmarket at Daley Plaza
21-24: Autumn Festival, an Arts & Crafts Affair
22: Christmas Tree Lighting in Millenium Park
28: Thanksgiving Day Parade
29: Opening of the Zoo Lights in Lincoln Park Zoo
30: Opening of the Holiday Magic at Brookfield Zoo