Abby Penados: State Bound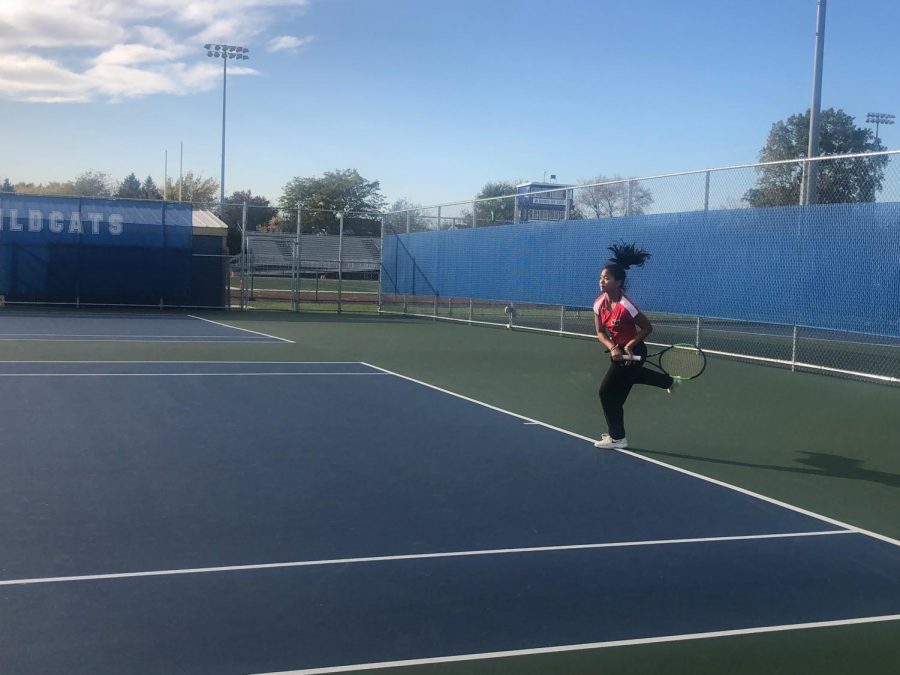 For many athletes here at Niles West, making it to state is a hefty goal. Many work towards that goal throughout their four years on the team and still only a select few achieve it. However, for sophomore Abby Penados, this is not the case. Even though the 2019 tennis season is only her second season competing at the high school level, this will be her second year going to state.
Penados had a humble beginning to her tennis career. She began practicing at the age of five, with her father coaching her until she began to play at a competitive level. With her parents playing as well, it was really only a matter of time before Penados would grow a love and passion for the sport. At eight years old, Penados began playing tournaments. By gaining experience along with winning the tournaments, she became extremely dedicated and motivated. From that point on, she practiced her tennis skills as a club sport of about 40 girls. The girls were divided into different levels based on skill, and it did not take Penados long before she began to climb to the top steadily. At that point, it looked like nothing could stop her.
However, when Penados reached the age of 12, she found herself unhappy about where she was in terms of skill level and accomplishments. Because of this disappointment, she was leaning towards taking a break from the sport. It wasn't until she became exhausted from countless practices and tournaments that she officially decided to take a break of 4 months.
"I felt worn out. I played tournaments almost every week, and I was tired. I didn't want to play anymore," Penados said.
Penados eventually decided to return to tennis, but it definitely was not easy.
"When I returned, I was losing, but I feel that practice and determination is what made me better," Penados said.
Fast forward to high school, and the athlete that climbed her way to the top was back, making state for tennis in her freshman year as a Lane Tech student. Penados transferred from Lane Tech to Niles West this year, and she did not hesitate to make her mark on the courts.
With ease, Penados placed 3rd in sectionals and placed 9th in state, moving up from where she placed the year before. In Penados's eyes, it was her coaches and inspirational team that got her where she was.
"If my team wasn't there, I feel that I would get in my head too much," Penados said.
When she first started at Niles West, Penados was met with the typical challenges a student finds when entering a new school.
"I was really nervous. I saw all the courts they had and all the girls. At Lane Tech, the team was really small. The West team intimidated me," Penados said.
Penados did not back down this time though. Instead, she persevered until she was able to make lasting bonds with her new team.
"At first, it was really hard. Season helped a lot though because my team introduced me to others. I met people, and they introduced me to their friends. They all helped me navigate West. Now, they're really close to me, and I connected to everyone really fast," Penados said.
For the future, Penados looks to become an all-state tennis athlete, eventually securing a scholarship for a D1 or D2 college. Regardless of what the future holds, Penados is constantly looking to improve. She does not back down, a strength that is noticed by her teammates. Senior Tegan Bollinger is impressed with what Penados has already accomplished.
"Practicing with Abby is mind-blowing. I honestly didn't know it was humanly possible for someone to be as good as she is at her age," Bollinger said.
Her coaches also continue to be impressed by her skill as a teammate daily. Coach George Bravos admits that he has been very lucky to have her as a team member because of her positive influence on the team.
"She made the entire team better. Her athleticism and competitiveness had trickled down to the rest of the team where [they] were better because of her practice habits and her leadership," Bravos said.
Penados is looking forward to competing next year, with her eyes glued to her main goal: being an all-state athlete in tennis.