Sprinkler Malfunction Causes Water Pipe to Burst
By Colene Gibson
September 30, 2011
Students were rushed out of the building in a fire-drill fashion due to a sprinkler malfunction by room 1245 at 8:08 this morning.
The fire department was required to come to clean the water and ensure that everything was safe.  They needed to confirm that the smell was caused by the old water from the pipes and not something else, said principal Kaine Osburn.
"There were about  200-300 gallons of water that burst from the sprinkler system, and that was what caused the smell," said Osburn.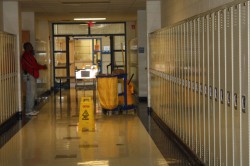 As a result of the pipe malfunction, the 1200 hallway of the new wing and surrounding classrooms are unusable for the time being.
"Students are being redirected to different classes, so students in 1235 are being sent to 1750, 1240 to 1755, 1245 to 2035, and 1225 to 1646," said dean Joaquin Stephenson.
Some students said the experience was an unpleasant start to their day.
"It started smelling so bad.  You could choke on the smell.  Water started flowing in the hallway, and we were like, 'what's happening?'" said senior Dominika Trzeciak, who was present in her German classroom in the 1200 wing when the alarm went off.
Senior Patricia Mocarska found the experience equally bothersome.
"We had to walk through a puddle of water to get out, and it smelled horrible," said Mocarska.
Ivana Kosir contributed to this article.