Penelope Alegria: The Poet on the Rise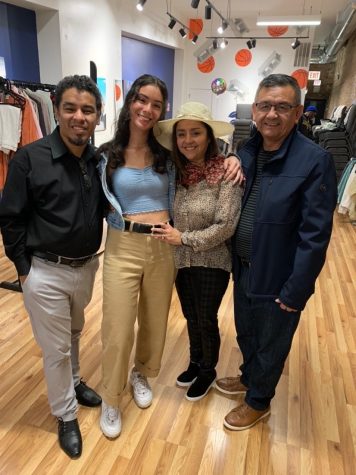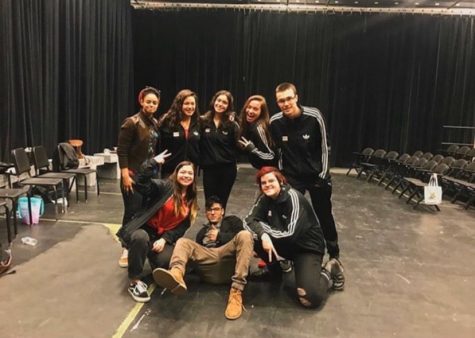 Breath steady, phone in hand, senior Penelope Alegria takes another step, planting her feet on the stage. She confidently speaks into the microphone in front of her, and captures her audience with her first word. Her expressive and lyrical poetry is unshakable, emotional, and composed–it's the medium she uses to portray her life experiences.
Alegria has been writing poetry since middle school, when she moved from Rogers Park to Lincolnwood.
"I used to go to an all-Hispanic middle school, which the curriculum was taught in Spanish and English, and I just really felt at home there. Then moving [to Lincolnwood], it was a mainly Asian and white population. My culture never made me different in the city, and then here it was just like an anomaly," Alegria said.
Alegria is a first generation daughter and only child. Both of her parents are immigrants, and while they make efforts to learn English, it's a difficult language and neither of them are as fluent as they are in Spanish. Alegria has grown up translating for her parents, as well as helping them with tasks that come naturally for second or third generation parents, such as ordering pizza.
"As an only child, my parents would always be on me and would want to know everything. Writing became a little personal space to express myself and not have to share it with the world, unless I wanted to… [moving] was definitely a change," Alegria said.
Her parents' hard work and sacrifices aren't noticed by only Alegria–her audiences also know how much her parents go through and have done for her.
"I write a lot about my family. I have a collection of poems writing about my mom's transition from Peru to Chicago from her perspective, and it's just very interesting for me to try to get into my parents' heads and remember that they are also people, and they also had a life before me. They exist outside of me, which is just kind of hard to fathom sometimes," Alegria said.
Alegria thinks that the poetry she's written about her parents has brought them closer. She's gotten to know the various struggles and hardships that they've experienced, and she can understand why they made difficult choices.
"I used to be really resentful of my parents for moving me to the suburbs, and I used to feel really guilty that my parents struggled finding jobs and learning English, and I was like, 'oh, well, you moved to America for me. What if you stayed in Peru, you could've had such an easier life, that's your motherland.' Writing poetry helps me work through those feelings. I'm allowed to feel this way, but it's also kind of irrational," Alegria said. "Someone asked me if it was a burden to translate for my parents all the time and just constantly be there for them, but how can that be a burden? I don't know, I just don't think of it that way."
Alegria even translates all of her poems into Spanish for her parents to read.
"[My family] is a really good source of inspiration, but school and life is also inspiration for me. I write a lot about school, a lot about my friends, and just my life as a teenager. I think it's really easy for me to get lost in this 'I'm helping my parents, my parents are immigrants, I'm first generation, Latinx person,' but I'm not. I'm also a teenager outside of that, and I also struggle with school, and I struggle with friends and boys and I also write about that. I think it's really important to remind myself that I'm still a kid," Alegria said.
Alegria believes that it can be hard to find that balance between being there for your parents and for yourself.
As soon as Alegria started to write poetry, she felt the connection. As she grew, she gained recognition from the larger community, leading to invitations to perform at major events. She has shared her poetry at various museums, such as the Museum of Contemporary Art, and at an event hosted by the Obama Foundation. This performance was facilitated in part by Alegria's connections to the Young Chicago Authors (YCA) organization.
Alegria landed a two-year internship with Young Chicago Authors (YCA), and was recently named Chicago Youth Poet Laureate for 2019-2020. She works with YCA to gig around the city and increase her exposure before her book is released this summer. YCA had the connection with the Obama Foundation, and helped Alegria receive her invitation to speak there.
"All of these things that I'm doing are a result of years of working at poetry and trying to hone my craft. I think they're just a result of the work that I've put in. It obviously feels good to be validated, but I don't need that to know that I'm a good writer and that I'm worthy of this," Alegria said.
Although Alegria's accomplishments aren't what define her, they are incredible opportunities to increase her exposure and meet new people. Her experience at the Obama Foundation allowed her to meet the president and have a conversation with him.
"It was just a lot of pressure that important people were there, and not just the Obamas. Successful, influential people were also speaking on that stage and being on that stage with them was just very surreal," Alegria said.
Her favorite accomplishment though, was a project she did that took her 30 days to complete.
"It's not a specific poem, and it's not a specific performance. It was a personal project I did. There's this practice among poets, it's called 30/30," Alegria said. 30/30 is an exercise in which a poet writes a poem every day for thirty days. "It doesn't sound like a lot, but I was really proud of myself to just make time every day to write a poem. Just an hour or an hour and a half to sit down and write," Alegria said.
30/30 taught her different poetry strategies, discipline, and how to write regardless of her mood or laziness. It also helped her expand her range of topics.
Alegria has very strong emotions and opinions about the topics she writes about. As much as she enjoys voicing her parents' struggles and their journeys, she also likes to express herself and what she goes through as an American teenager.
"I have to appeal to a certain audience, because at the end of the day, they are going to be purchasing my poems, and they are going to be purchasing my book and it's a business. But also, finding that balance [is important]. I write about sneaking out during chores and talking back to my mother, and sometimes they don't want to hear about that, and sometimes I just have to be like, 'I don't care what you want to hear, this is what you're going to get…' I think you have to know where to draw the line and say, 'this is mine,'" Alegria said.
Alegria's skills are known to her friends and teachers. One of her friends, junior Kiana Jordan has seen her perform at poetry slams and open mics.
"She's a very caring, talented person who looks out for everyone! Especially on the poetry team – her level of talent really helps us become stronger as a group and she's really someone we all look up to. She's also very easy to get close with," Jordan said.
"Penelope is an emerging poet whose work is vibrant and relevant. I am thrilled to hear about all of the new experiences she has where she is able to perform her poems, and I hope that someday, when she becomes a professor and teaches a class on creative writing and/or poetry, I can take a class from her," English teacher Sally Graham said.
If you ever have the chance, come out to see her perform at a poetry slam or an open mic at Young Chicago Authors at 1180 N Milwaukee Ave in Chicago.