Mr. Neumayer and the Sustainable Scooter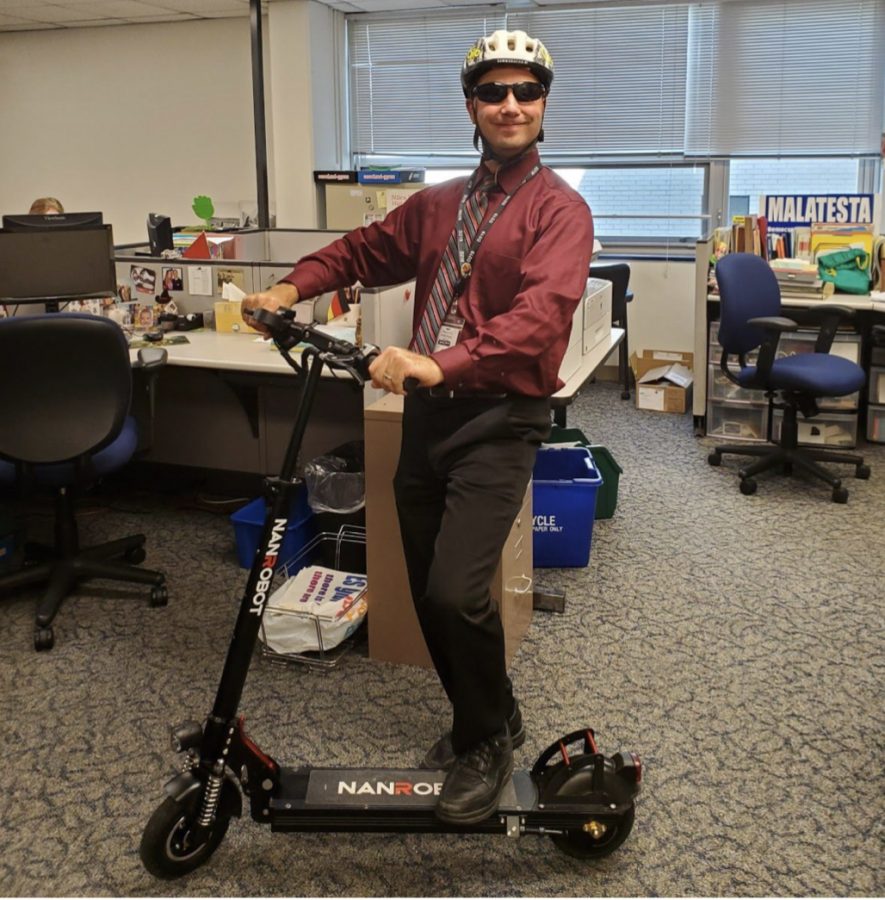 You're sitting in your home, looking out the window as you wait for your mom to drive you to school. Suddenly, you hear a buzzing noise that gets louder and louder every second. Out of the corner of your eye, you see an electric scooter zooming down the street. On it is your German teacher, Josef Neumayer. 
Neumayer is a German teacher at Niles West. He teaches honors German 1, regular German 3 and honors German 2. The Niles West alum became interested in German when he was a freshman. He took German for all four years of high school and took classes in college. He has gone to Germany with Niles West for the German exchange trips and with his family as well.
Neumayer rides his electric scooter to school in an effort to be sustainable. According to him, it's important to be sustainable since climate change has had a negative effect on people's lives, including ours.
"The earth is seen with a lot of heavy climate change issues, and we see that people's lives are getting more complicated. Look at these weather situations with the hurricanes, and the extreme heat and cold that a lot of places are experiencing. You see here the Great Lakes are forecasted to be cooler and wetter, but that's not the trend globally," Neumayer said. 
Neumayer believes that by not driving to work and using an electric scooter instead, he will be able to reduce the amount of carbon he uses.
"I am trying to lower my carbon footprint in all areas of my life, and one of them is driving to work. I don't need to drive a machine to work that spews out carbon," Neumayer said. 
There are various ways people can take action to be more sustainable, observed sophomore Leila Pekovic, a student taking German.
"He comes up with a bunch of ways to be sustainable and teaches them to us. He does stuff in his house by making some of his own products, like butter or smoothies on his roof," Pekovic said.  
Neumayer has shown to students that being dedicated to reducing pollution and making the Earth cleaner is possible. 
"Herr Neumayer is teaching me how and why it is better to be sustainable in our environment. We are able to make the world a better place by being sustainable," sophomore Thomas Ramirez said. 
This year, Neumayer has started a new program about teaching students how to be sustainable within their environment. In his classes, students are put into groups with different topics and try to figure out ways to be more sustainable. Then the students are paired with a group filled with German students with the same topic, and they share data with each other and figure out the differences between Germany and the United States, with ways to be sustainable.
Neumayer is making his impact on our world by riding an electric scooter to work and teaching his students about what it means to be sustainable.