Breakfast With the Board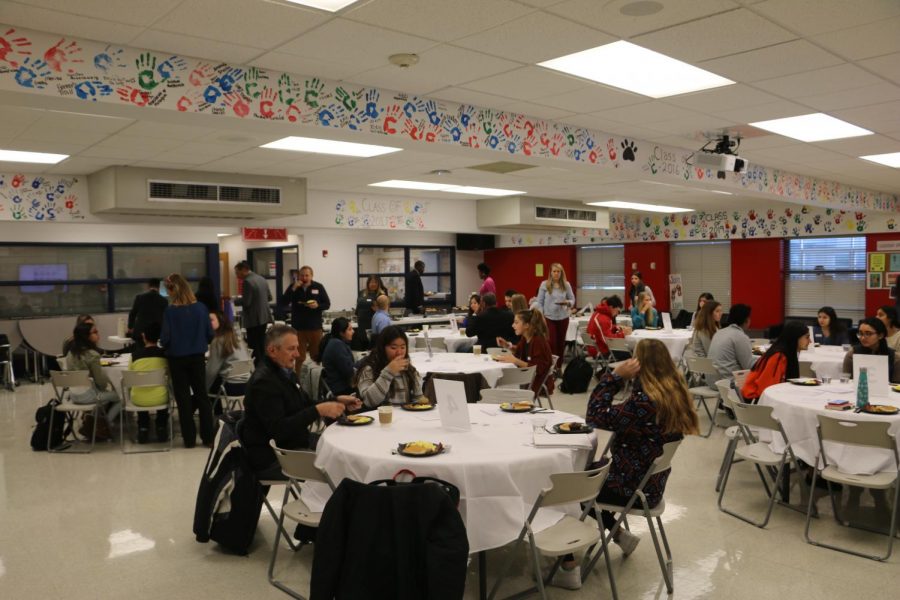 Student Government held their "Breakfast with the Board" in the student commons last Thurs. Nov. 14. The aim of this event is to get administrators, board members, and student government together to discuss issues student government has identified. Niles West principal Dr. Karen Ritter, District 219 School Board president Dr. David Ko, other board members, and student leaders were in attendance.  The meeting covered a range of topics including school spirit, communication between stakeholders, the new food service, and a new finals policy.
For student government participants, the most popular topic was the new finals policy, which, if approved, may allow seniors meeting behavioral, attendance, and grade requirements to opt out second semester final exams. No student would be allowed to opt out of their exam if they have behavioral infractions and their attendance or grades fall below a certain threshold. Administrators and board would be responsible for determining the criteria.
"We got some great feedback from the board president Dr. David Ko, and Student Government is looking forward to developing this as a possible policy," junior class president Sydney Schroeder said.
Other topics, like the new, unhealthy options in the vending machines were addressed, along with concerns about including nutritional facts on cafeteria food, and cafeteria food expenses.
"Student Government works hard and really focuses on student feedback to ensure that the students feel as if their voices are being heard, [and] Breakfast with the Board was a wonderful chance for student leaders to interact with board members. The event also allows the Board to learn more about the students' viewpoints on certain topics," junior class secretary, Harsi Gandhi said.
The event opens a path between students and the decision makers at the administrative level of District 219.
"I think its a great way to demonstrate student advocacy and student voice to the board, and the board is very willing to listen and take action in support of students," Ritter said.